Most pundits thought 2016 was going to be the year when the United States moved closer to interest-rate normalization. The interest-rate hike delivered by the Federal Reserve (Fed) in December 2015 was widely regarded by investors the first in a series expected during the course of the next year, lifting US interest rates from historically low levels to something more approaching the longer-term average. Now, Donald G. Taylor, president and chief investment officer, Franklin Equity Group, US Value, suspects that recent lackluster economic reports and heightened market volatility may have put the Fed's plan on hold—temporarily. Nevertheless, Taylor's base-case scenario for 2016 is more optimistic than the market consensus, and he has rising hope for future rises in interest rates.
Scanning recent headlines, you would think it was a given that the United States is in a rising interest-rate environment. I guess that definition is technically correct, since the Federal Reserve (Fed) raised its benchmark lending rate in December of last year. But I'm not fully convinced that the Fed will, in fact, continue to raise interest rates in the next few months. Rather, it is more likely that interest rate increases will be postponed into the latter half of 2016.
The near-term outlook for additional Fed rate hikes has been clouded by the volatility in global equity markets. I think investors have been skittish in the aftermath of the 2008–2009 financial crisis. Current gyrations in China's economy and financial markets are now driving a sense of "here we go again." The current Fed policymakers have a track record of trying to calm markets by not raising rates against such a backdrop. For instance, many observers had expected the Fed to kick off its interest rate normalization in September of last year. However, the Fed instead delayed its action after what was a tumultuous summer for financial markets. In all likelihood, I believe the Fed will probably hold fire on interest rates until markets calm down for a period of time.
The Fed probably raised rates last December under the assumption that the US economy would show at least modest growth. However, prospects for near-term interest-rate increases are being further dimmed by recent economic data: despite decent gains in employment recently, economic growth appears sluggish at best and other indicators have not been so rosy. For instance, new orders for non-defense capital goods1 have dropped, and small-business optimism numbers are lackluster.2 Future Fed tightening will depend not just on a reduction in stock market volatility, but also on a rosier economic environment.
What would cause this dynamic to change? I believe the current level of stock market volatility is somewhat disconnected from economic realities on the ground. The consensus economic outlook is probably too pessimistic, in my view. In fact, I would argue that, at this point, the risk is to the upside in terms of growth expectations, for the economy and corporate earnings, at least in the United States.
I think a case can be made that the Fed's December rate hike may be stimulative, by fomenting commercial lending, accelerating investment decisions and reducing market uncertainty. We also see benefits emerging from the tumult in the energy industry. While the collapse in oil prices in 2015 caused an earnings recession for the energy sector and some adjacent industries, it has put billions of dollars of savings into US consumers' pockets, which will likely bolster household balance sheets and expenditures. It is worth recalling that consumption spending accounts for two-thirds of US economic activity.3 Moreover, lower prices for gasoline, heating oil and natural gas will help sustain margins at US companies at a time when top-line revenue growth has become more challenging. These catalysts may take some time to improve growth expectations or spark a perceivable uptick in economic activity.  But, to my way of thinking, higher interest rates later in 2016 will become more likely than not.
Dividends on the Rise?
As an investor who focuses on companies that continually increase their dividends (I call these companies "growers"), I'm actually rooting for a rise in interest rates, because dividends tend to climb along with rates. Of course, higher rates in and of themselves don't cause dividends to rise, but rising interest rates are generally considered to be a signal of more robust economic times. In healthier environments, sales and cash flow are typically higher and, in turn, dividend growth tends to follow.
Additionally, a rising-rate environment typically favors the shares of growers over the shares of what I call "yielders," companies that already distribute relatively high dividends. In my many years of investment experience, I have found the growers that increase their dividends at double-digit rates tend to experience stock-price appreciation in line with dividend growth over the long term.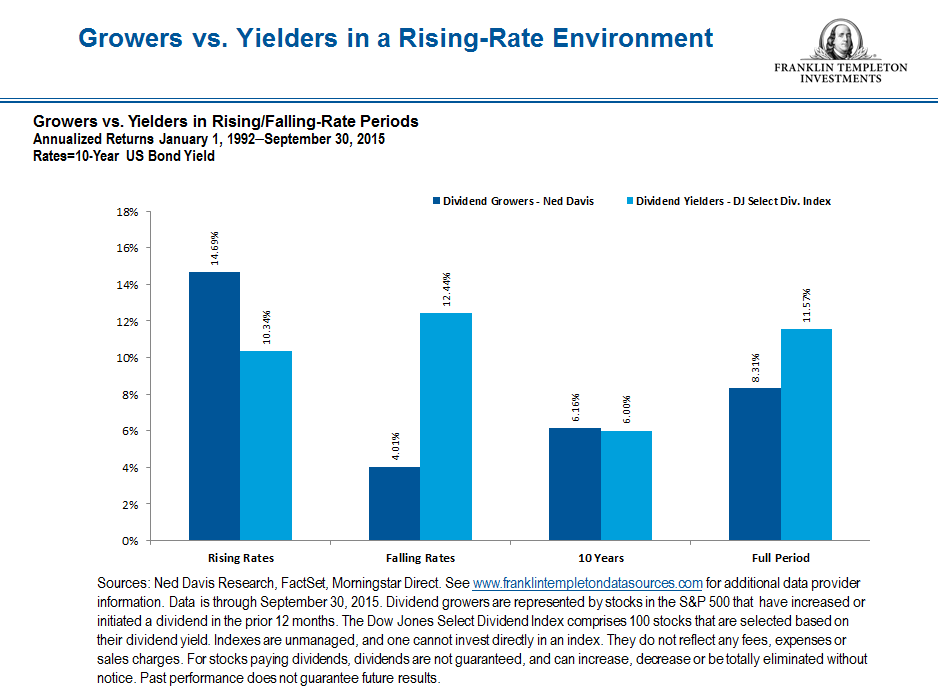 Yielders typically do not see a substantial boost in revenue in booming economic times or dramatic declines in adverse times. Utilities, for example, would fall under this category. Consumers usually do not increase or decrease their power usage based on economic indicators. Yielders typically perform better in lower interest-rate environments as yielders are sometimes considered a substitute for bonds. Investors may consider yielders to be more attractive when interest rates are low because many of those companies are able to pay a yield on their stocks that is higher than many fixed income alternatives.
Sector Watch
Turning to specific sectors, we expect the consumer discretionary area, which had benefitted from the long-term lower-rate environment with strong automobile and home sales, to likely be challenged if rates continue rising. Consumers who had planned to buy a home or a car have probably already done so, and likely are not in the market for a new one, while those who did not may hesitate if higher interest rates drive borrowing costs higher.
It's difficult to discuss dividends in early 2016 without mentioning energy companies, many of which have felt the impact of the recent collapse in oil prices. In fact, energy companies accounted for 48% of the dividend cuts and 80% of the dollar amount of dividend cuts for US-listed stocks in the fourth quarter of 2015.4
The energy holdings in our rising-dividend portfolio, however, either maintained or increased their dividends last year. And I believe that these companies, which are primarily large integrated oil names, will continue to maintain their dividend levels in the near term. But I do think we will likely see many of the harder-hit companies in the energy sector and adjacent industries continue to cut or eliminate their dividends.
That said, while headlines about energy prices—and interest rates—may be distracting, we continue to stick to our time-tested strategy of investing in companies with the potential for sustained dividend growth.
To get insights from Franklin Templeton Investments delivered to your inbox, subscribe to the Beyond Bulls & Bears blog.
For timely investing tidbits, follow us on Twitter @FTI_US and on LinkedIn.
The comments, opinions and analyses expressed herein are for informational purposes only and should not be considered individual investment advice or recommendations to invest in any security or to adopt any investment strategy. Because market and economic conditions are subject to rapid change, comments, opinions and analyses are rendered as of the date of the posting and may change without notice. The material is not intended as a complete analysis of every material fact regarding any country, region, market, industry, investment or strategy.
This information is intended for US residents only.
What Are the Risks?
Franklin Rising Dividends Fund
All investments involve risks, including possible loss of principal. Value securities may not increase in price as anticipated or may decline further in value. While smaller and mid-sized companies may offer substantial opportunities for capital growth, they also involve heightened risks and should be considered speculative. Historically, smaller- and midsize- company securities have been more volatile in price than larger-company securities, especially over the short term. The fund may invest up to 25% of its total assets in foreign securities, which may involve special risks, including currency fluctuations and economic and political uncertainty. Investments in the natural resources sector involve special risks, including increased susceptibility to adverse economic and regulatory developments affecting the sector. These and other risks are detailed in the fund's prospectus.
Investors should carefully consider a fund's investment goals, risks, sales charges and expenses before investing. To obtain a summary prospectus and/or prospectus, which contains this and other information, talk to your financial advisor, call us at (800) DIAL BEN®/342-5236 or visit franklintempleton.com. Please carefully read a prospectus before you invest or send money.
_______________________________________________________________________
1. Source: US Census Bureau News press release dated 12/23/2015. Data is for November 2015.
2. Source: National Federation of Independent Business, Small Business Optimism Index. Data is for December 2015.
4. Source: S&P Dow Jones Indices, press release dated 1/5/2016. See www.franklintempletondatasources.com for additional data provider information.