The clamor is already building for the European Central Bank to take further monetary policy easing steps at its forthcoming governing council meeting on March 10. David Zahn, head of European Fixed Income, Franklin Templeton Fixed Income Group, thinks it will act, but suspects that—just as after the meeting in December—the market in general may be over-expecting and may find itself disappointed by the outcome. He, on the other hand, remains reasonably sanguine about the situation in Europe, and explains why he thinks fears about the banking sector are overblown and why the recent volatility should present opportunities for long-term investors.
Overall, we think the European economy in general is doing well and the so-called "real economy," tied to the production of goods and services, seems, so far, to have been insulated from the volatility in the financial markets. Inflation certainly remains low in Europe but it is at least on a positive trajectory and growth is being led for the most part by domestic consumption.
Nevertheless, we share the widespread expectation the volatility that we've seen in recent months will continue for some time to come and that is why we expect the European Central Bank (ECB) to provide more easing, probably by extending its quantitative easing (QE) program yet further. Markets like certainty, so knowing there should be a buyer of assets for an extended period of time is quite important, in our view. At the moment, we think it's unlikely that the ECB would consider expanding the scope of its program to encapsulate other financial assets; it might expand the list of issuers whose assets it can buy to include more agency debt, but we think that's about it.
There are selective names in the corporate credit arena that are starting to look attractive to us, both in investment grade and high yield, especially compared to government debt.
Some of the so-called peripheral government bonds—for example Italy and Spain—have done well over time. But we think that time is likely coming to an end. While we're not expecting an imminent significant sell-off of these peripheral government bonds, we do feel the potential yield opportunities are not as attractive as in the credit sector.
We think it's important to remember the progress that has been made since the introduction of the QE program. A year ago, eurozone observers were looking at deflation numbers, a lackluster economy and a stronger euro. Today, growth is more robust, the euro is lower and inflation is positive—admittedly not very positive, but it is positive. So we don't think there's any reason for the ECB to panic; in our eyes, it should just continue along with the plan to buy bonds for the foreseeable future.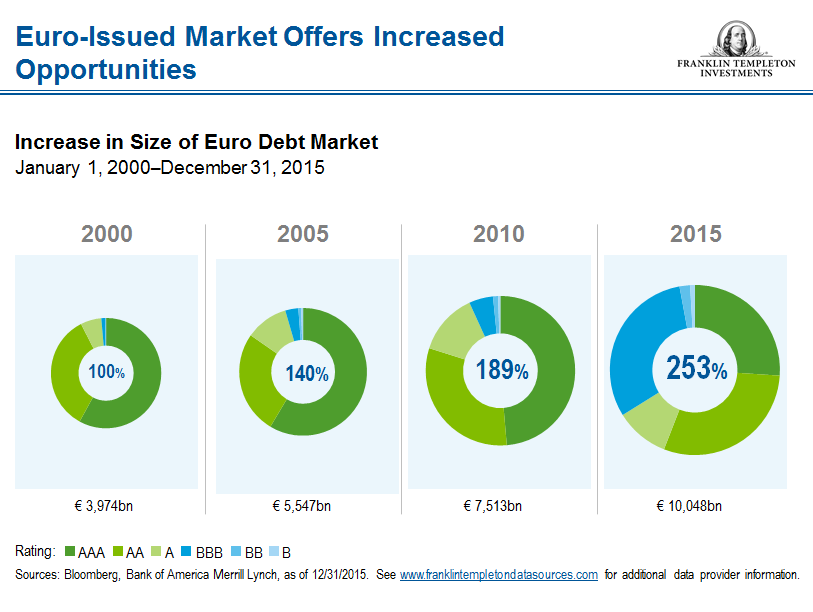 It's also interesting to examine the changing significance and dynamics of the European bond market in general, which has almost doubled in size since 2005 to more than €10 trillion today, including government, investment-grade corporate debt and high yield.
In the corporate arena, a growing number of large, non-European issuers are choosing to issue in Europe. We think that's an important development for the diversification of the European bond markets, but also for investors who need to have that global reach to be able to understand all the names being issued in Europe.
It also puts into perspective just how big the ECB's €1.5 trillion bond buying program is. That for us is a good reason to believe yields should remain anchored in Europe for a while.
Banking Balance Sheets Shrinking
As more corporate issuers come to the market, we're seeing more disintermediation of the banking system. A larger bond market means that disintermediation can happen at a greater pace because there are more international investors interested in the market as it gets bigger. In order to move more in line with the United States, Europe needs to see banks' balance sheets shrink further as a percentage of gross domestic product. That means more companies need to come directly to the bond market; having a larger, more liquid bond market should help with that environment.
Having said that, in our view, the banking sector in Europe in general is in quite good shape, and certainly much healthier than it has been in many years. Some banks in individual countries have problems that need to be dealt with, but governments and the banks themselves do appear to be dealing with them. Capital in the banking system overall is much higher than it has been in many years and bank balance sheets are shrinking.1
Above all, there is growth in the economy, which should be positive for banks. In our view, the big issue for banks is the negative deposit rates being charged by the ECB and how that might impact banks' ability to make money. But in general, we don't think the current negative-rate situation is going to impact them that much.
In summary, there is some short-term volatility in the markets and we think that gives us an opportunity to reposition our portfolios. I'm more optimistic about Europe in general being able to generate returns than I have been in a while, because our analysis shows European credit is offering quite good value, and that's something we have not been able to say for many years.
The comments, opinions and analyses expressed herein are for informational purposes only and should not be considered individual investment advice or recommendations to invest in any security or to adopt any investment strategy. Because market and economic conditions are subject to rapid change, comments, opinions and analyses are rendered as of the date of the posting and may change without notice. The material is not intended as a complete analysis of every material fact regarding any country, region, market, industry, investment or strategy.
This information is intended for US residents only.
To get insights from Franklin Templeton delivered to your inbox, subscribe to the Beyond Bulls & Bears blog.
For timely investing tidbits, follow us on Twitter @FTI_US and on LinkedIn.
CFA® and Chartered Financial Analyst® are trademarks owned by CFA Institute.
What Are the Risks?
All investments involve risks, including the possible loss of principal. Bond prices generally move in the opposite direction of interest rates. Thus, as prices of bonds in an investment portfolio adjust to a rise in interest rates, the value of the portfolio may decline. Special risks are associated with foreign investing, including currency rate fluctuations, economic instability and political developments.
________________________________________________________
1. Source: European Banking Authority, Risk Dashboard, Q3, 2015