With the 2016 Summer Olympic Games underway, the world has been watching Brazil. While Brazil's economic and political challenges certainly haven't been a secret, Templeton Global Macro CIO Michael Hasenstab sees a potential opportunity for patient investors. He dubs Brazil "a vulnerable market poised for a significant rebound," based on the Global Macro team's assessment.
In the latest edition of "Global Macro Shifts," the Templeton Global Macro team provides an in-depth evaluation of emerging markets that reminds us how each country handles its political and economic challenges will ultimately determine its viability. Here, Hasenstab presents the team's case study on Brazil.
Brazil's economic situation started deteriorating in 2011, when the commodity "super cycle" turned and commodity prices began to decline. About 60% of Brazil's exports are commodity-based, making the country very exposed to commodity price cycles. At first, Brazil's policymakers hoped that the decline in commodity prices would prove temporary; as a consequence, public spending did not adjust to the deceleration in revenue growth, causing the primary fiscal balance to deteriorate. The decline in commodity prices, however, proved protracted, as China's economy continued to slow and to rebalance away from commodity-intense investment. By 2014, the deterioration in Brazil's fiscal accounts accelerated sharply, with the primary fiscal balance plunging into a deep deficit. While the primary fiscal deficit of 2.3% of gross domestic product (GDP) is not high relative to Brazil's peers, the overall deficit of 9.3% of GDP stands out even among emerging markets.1
The runup in the fiscal deficit was accompanied for several years by domination in credit expansion of government-subsidized lending, making for a very weak macroeconomic policy framework. This already adverse economic situation was aggravated by the political crisis that came to a boil in 2015, as a corruption scandal undermined the credibility and stability of Dilma Rousseff's administration and rapidly paralyzed decision-making. Brazil entered into a deep recession. The economy contracted by 3.85% in 2015, and we see it continuing to contract this year. The contraction in GDP has been accompanied by very high unemployment, low consumer confidence and falling real wages.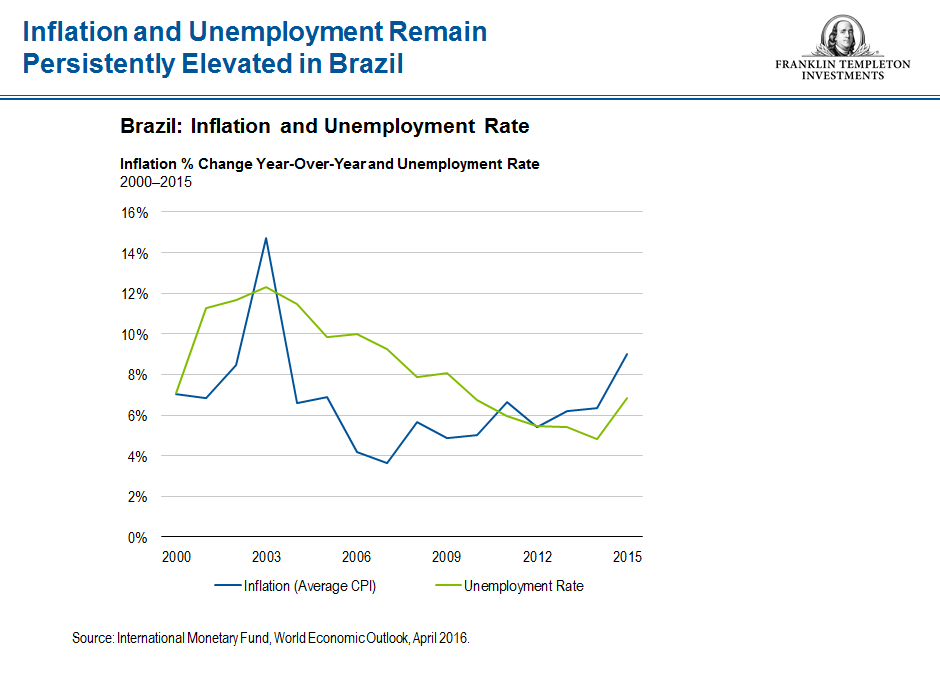 Even in these very adverse circumstances, however, macroeconomic policies have already started to turn around. Monetary policy has been tightened aggressively even in the face of a deep recession, to bring inflation expectations back under control. This policy should eventually start reducing inflation and inflation expectations; fiscal policy is being tightened, and the International Monetary Fund (IMF) projects an improvement in the primary fiscal balance in the years ahead. And as the following charts show, credit expansion has been on a downward trend for a while already.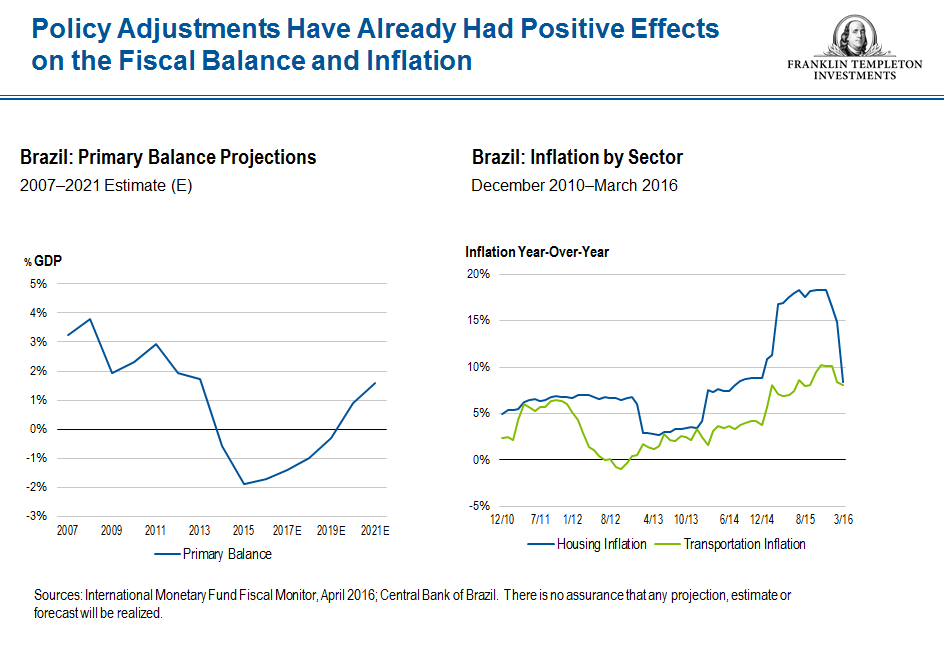 The government's ability to entrench prudent macroeconomic policies should improve further as the end of the political crisis comes closer. It is also worth noting that Brazil's public debt is still relatively manageable: Even after the recent deterioration, gross public debt is still just over 70% of GDP, and net debt is under 40% of GDP,2 which affords the country important breathing room as fiscal prudence is restored. Credit policy has also started to be placed on a more sustainable footing. Between 2012 and 2015, the proportion of earmarked or subsidized lending via policy banks increased sharply, i.e., lending subsidized by the government. This crowded out non-subsidized/private sector lending. By the end of 2015 the stock of subsidized lending accounted for about half of total credit outstanding. This year, however, the situation started changing, with the flow of new credit declining rapidly. This change has come about by government policy rather than market forces. New credit expansion is contracting by some 20% year-over-year (yoy), compared to a peak growth of 60% yoy a few years ago (as you can see in the chart below).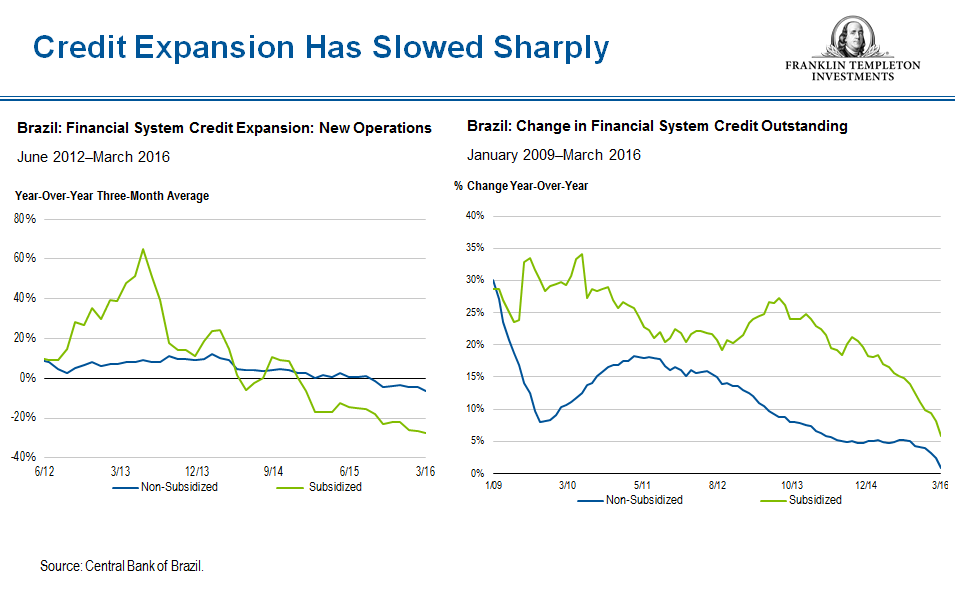 A consequence of the change in policy has been the increase in non-performing loans within the banking sector, to which financial institutions have responded by increasing provisioning. Meanwhile, Brazil's external accounts have also started to improve, partly as a consequence of the recession. While Brazil is a large closed economy, with exports and imports making up a very small share of GDP, the current account deficit had widened to 4.5% of GDP, driven by the collapse in commodity revenues and the loose fiscal stance. As the next chart shows, a very rapid improvement in the external balance is now underway, with the narrow balance of payments (current account plus net foreign direct investment: narrow balance of payments [NBOP]) moving into surplus.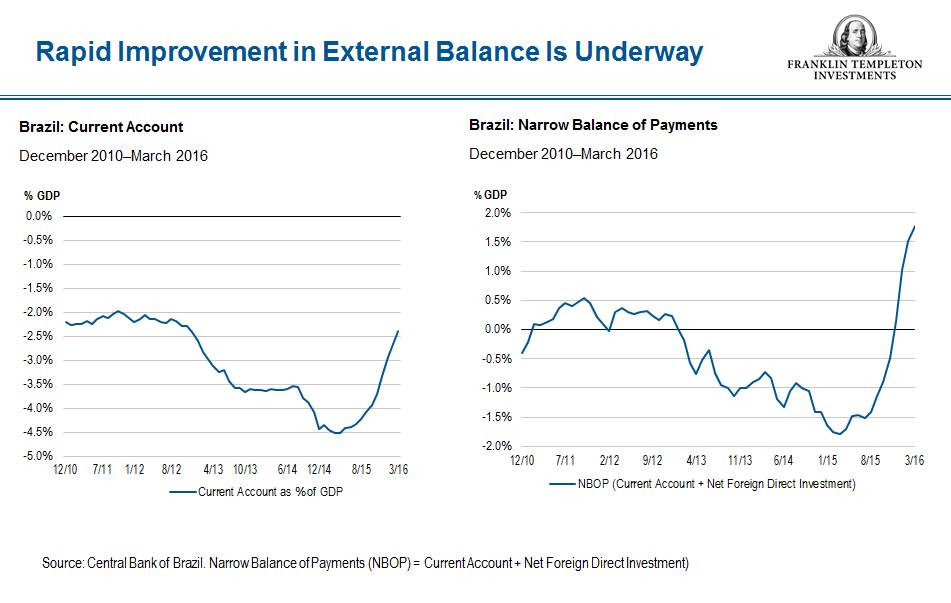 In addition, international reserves, as of the end of first-quarter 2016, covered 107% of gross external debt and 324% of short-term external debt. Furthermore, net foreign direct investment (FDI) at 4.16% of GDP more than covers the deficit. Finally, domestic Brazilian real-denominated debt makes up 90% of the government debt stock, limiting vulnerability to foreign exchange mismatches. Brazil's external vulnerability is therefore quite limited. Once political stability is restored, tackling much needed structural reforms should be a priority, in our view. During President Dilma Rousseff's first term, little was accomplished in this area. With the pronounced deterioration in fiscal accounts, social security and pension reform have become more urgent.
We believe broad consensus can be achieved once the country navigates the current political crisis and a new leadership team is fully in place. Brazil had already learned some important lessons from previous crises—in particular, the value of a flexible exchange rate, high reserve levels and low short-term debt in limiting the country's external vulnerability. The most recent crisis has brought home the importance of maintaining a prudent and sustainable fiscal stance. And perhaps most importantly, Brazil's middle class has expressed a clear desire for greater transparency and for an economic policy framework that can bring back robust growth in living standards. We believe this will act as a powerful incentive for Brazil's policymakers to push forward with structural reforms, including improvements to the business environment.
Summary of Our LMRI Scoring for Brazil
The Local Markets Resilience Index (LMRI) is a proprietary scoring mechanism that allows us to rank/assess emerging market countries along five different factors:
Policy mix
Lessons learned
Structural reforms
Domestic demand
External vulnerabilities
For each factor, we separately assess both current and projected conditions, so as to gauge the degree of risk along the investment horizon. We aggregate the five individual category scores to obtain an overall country score—our proprietary LMRI. The scoring along each category is necessarily based to an important extent on our subjective judgment; nonetheless, we believe it provides a strong rigor in assessing and comparing different markets in a way that allows us to assess the true underlying risk and to identify attractive opportunities where our score deviates significantly from the risk assessment implicit in market prices.
The rating of a country is based on the five criteria, described above. Each criterion is assigned a value between -2 and +2 for the current situation, and similarly a value for the projected outlook, in the views of the Global Macro team. Our case study on Brazil illustrates some aspects of the research the team undertakes in analyzing individual countries, together with the scoring methodology.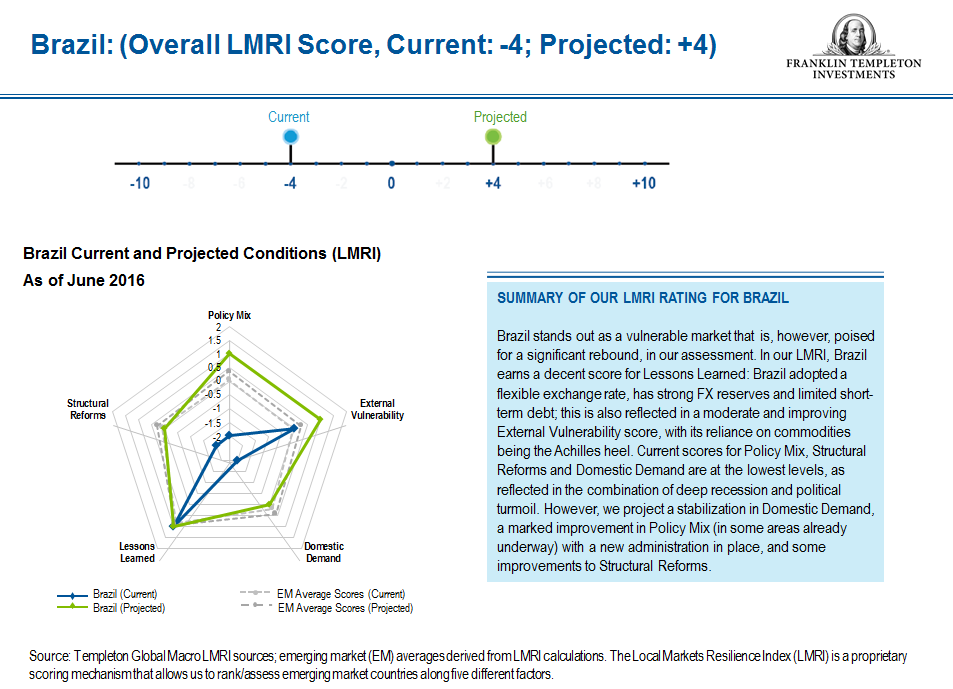 For more information, read "Emerging Markets: Mapping the Opportunities" a research-based briefing on global economies featuring the analysis and views of Dr. Michael Hasenstab and senior members of Templeton Global Macro. Dr. Hasenstab and his team manage Templeton's global bond strategies, including unconstrained fixed income, currency and global macro. This economic team, trained in some of the leading universities in the world, integrates global macroeconomic analysis with in-depth country research to help identify long-term imbalances that translate to investment opportunities.
To get insights from Franklin Templeton Investments delivered to your inbox, subscribe to the Beyond Bulls & Bears blog.
For timely investing tidbits, follow us on Twitter @FTI_US and on LinkedIn.
The comments, opinions and analyses expressed herein are for informational purposes only and should not be considered individual investment advice or recommendations to invest in any security or to adopt any investment strategy. Because market and economic conditions are subject to rapid change, comments, opinions and analyses are rendered as of the date of the posting and may change without notice. The material is not intended as a complete analysis of every material fact regarding any country, region, market, industry, investment or strategy.
This information is intended for US residents only.
What Are the Risks?
All investments involve risks, including possible loss of principal. Special risks are associated with foreign investing, including currency fluctuations, economic instability and political developments. Investments in emerging markets, of which frontier markets are a subset, involve heightened risks related to the same factors, in addition to those associated with these markets' smaller size, lesser liquidity and lack of established legal, political, business and social frameworks to support securities markets. Because these frameworks are typically even less developed in frontier markets, as well as various factors including the increased potential for extreme price volatility, illiquidity, trade barriers and exchange controls, the risks associated with emerging markets are magnified in frontier markets.
___________________________________________________
1. Source: International Monetary Fund, Fiscal Monitor, April 2016.