Franklin Templeton's Notes from the Trading Desk offers a weekly overview of what our professional traders and analysts are watching in the markets. The European and Asian desk teams are manned by a total of 18 professionals based across Scotland, Hong Kong, India, Australia and South Korea, with an average of 14 years of experience whose job it is to monitor the markets around the world. Their views are theirs alone and are not intended to be construed as investment advice.
Wednesday, November 9, 2016
Donald Trump was elected the 45th President of the United States, in the early hours of Wednesday morning. The President-elect, who will be inaugurated on January 20, 2017, confounded pre-election polls and took a series of key battleground states, including Florida, Ohio, North Carolina and Pennsylvania, a state that has not backed a Republican candidate for president since 1988.
Republicans will also hold sway in Congress after fending off a Democratic challenge in the Senate, keeping its hold over both the House of Representatives and the Senate.
The Digest
Equity Markets
Asia
For Asian markets trading Wednesday morning, we felt it was almost a replay of the Brexit tape—initial complacency made a hard turn into the realization that an upset was imminent. Morning flows were skewed to the sell-side. Equity activity was limited, suggesting that retail investors and speculative traders were leading the move. The selling spillover continued as a trickle-down effect, first into the Japan and then into Hong Kong. After initial heavy mark-downs, some buying did emerge with some short-covering.
By the time Asian equity markets closed, Japanese equities were the laggards, negatively impacted by a stronger Japanese yen. Elsewhere, the declines were less extreme as equity markets in South Korea, Hong Kong and Australia finishing the day in negative territory.
Europe
European equity markets had an impressive turnaround in early trading on Wednesday. The initial reaction across European markets was sharply lower, but markets subsequently rallied. Trump's victory speech struck a conciliatory tone which may have eased some nerves, and in our view, it feels as if many investors are taking a wait-and-see approach. Early volumes were around twice the average; markets do feel much more orderly in comparison to morning trading on the day of the Brexit referendum results.
Russia, at the time of writing, was the best performing market in Europe, due to Trump's softer stance toward the country. Additionally, Switzerland benefited from strong performance of its the health care sector and its perceived safe haven qualities, while the United Kingdom was holding up better than most other European markets due to its exposure to the basic resources and health care sectors.
Equity markets in Spain and Portugal have underperformed due to their exposure to Latin America, particularly Mexico, given Trump's rhetoric on the country. The Mexican peso hit an all-time low overnight while the votes were being tallied.
Looking at sector performance in Europe, the health care sector has been the best performer, benefiting from a general risk-off sentiment—bolstered by Democratic candidate Hillary Clinton's comments on drug pricing ahead of the election. Basic resources have performed relatively well on the back of a weaker US dollar, while gold stocks have benefited from a "flight to safety". On investor expectations of increased spending on the US military, the defense sector performed well, while infrastructure stocks have been performing relatively well on Wednesday on hopes of fiscal stimulus.
The banking sector in Europe has underperformed due to the risk-off sentiment, but we feel it will be likely supported, to an extent, by expectations of an increase in inflation.
Currencies
The knee-jerk reaction, as widely expected, saw flows into traditional safe havens, which led to a stronger Japanese yen and Swiss franc. However, the Mexican peso was sliding against the US dollar, slumping to an all-time low overnight. The trade-weighted US dollar weakened, but recovered much of the lost ground, trading down just 0.5% against an initial move lower of more than 2%. In our view, if the euro continues to appreciate against the US dollar, a further extension of quantitative easing by the European Central Bank at its next monetary policy meeting in December looks more probable. Additionally, we believe some kind of policy response from the Bank of Japan and Swiss National Bank looks increasingly likely.
Treasuries
The US 10-year Treasury yield moved lower initially, as part of a knee-jerk safe-haven play. If investors increasingly view the fact that Trump's policy is inflationary and relies on employ fiscal policy—which would likely increase supply of bonds—we expect the 10-year US Treasury yield to rise. The 10-year yield spiked aggressively above the 1.95% level early on Wednesday, while European sovereign bond yields traded broadly higher, but within a relatively stable range.
Commodities
On the back of the US election results, the mining sector performed relatively well, while underlying commodities made a strong move higher as the weaker US dollar buoyed the space. As expected, gold rose, but we believe this is also due to a safe-haven play, given the outflows we have seen from bonds.
The price of crude oil weakened overnight as the Trump victory looked increasingly likely. The initial move lower came in response to Trump's plan to foster more US crude oil production to "unlock $50 trillion in domestic oil, natural gas and coal energy". The price of crude oil has subsequently recovered lost ground, as inflationary trades took over.
Views You Can Use
Insight from Our Investment Professionals
With the votes now in, our investment leaders share their perspective on the potential impacts of the candidates' policies and what investors should consider for their portfolios. Read More.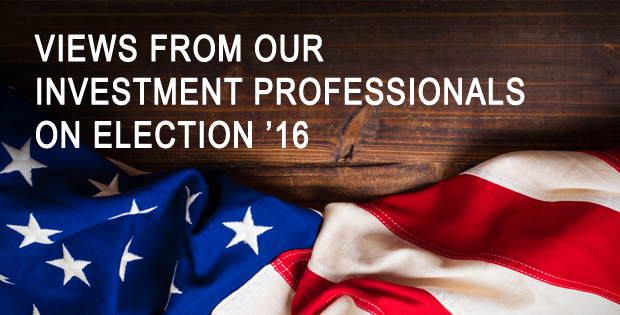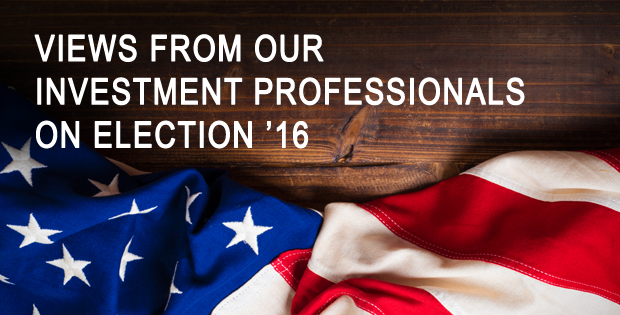 To get insights from Franklin Templeton Investments delivered to your inbox, subscribe to the Beyond Bulls & Bears blog.
For timely investing tidbits, follow us on Twitter @FTI_US and on LinkedIn.
Important Legal Information
This article reflects the analysis and opinions of Franklin Templeton's European Trading Desk as of November 9, 2016. The comments, opinions and analyses expressed herein are for informational purposes only and should not be considered individual investment advice or recommendations to invest in any security or to adopt any investment strategy. Because market and economic conditions are subject to rapid change, comments, opinions and analyses are rendered as of the date of the posting and may change without notice. The material is not intended as a complete analysis of every material fact regarding any country, region, market, industry, investment or strategy.
Data from third-party sources may have been used in the preparation of this material and Franklin Templeton Investments ("FTI") has not independently verified, validated or audited such data.
What Are the Risks?
All investments involve risk, including possible loss of principal. Stock prices fluctuate, sometimes rapidly and dramatically, due to factors affecting individual companies, particular industries or sectors, or general market conditions. Bond prices generally move in the opposite direction of interest rates. Thus, as prices of bonds in an investment portfolio adjust to a rise in interest rates, the value of the portfolio may decline. Currency rates may fluctuate significantly over short periods of time, and can reduce returns.
Investments in foreign securities involve special risks including currency fluctuations, economic instability and political developments. Investments in emerging markets, of which frontier markets are a subset, involve heightened risks related to the same factors, in addition to those associated with these markets' smaller size, lesser liquidity and lack of established legal, political, business and social frameworks to support securities markets. Because these frameworks are typically even less developed in frontier markets, as well as various factors including the increased potential for extreme price volatility, illiquidity, trade barriers and exchange controls, the risks associated with emerging markets are magnified in frontier markets.
This information is intended for US residents only.