We believe US economic fundamentals remain strong. Factors such as improved employment metrics, wage growth, productivity and housing starts continue to support a slow-but-durable expansion in the United States, in our view. Additionally, with the uncertainty of the US election now behind us, we are looking ahead to the potential implications of a new administration in concert with corporate and consumer fundamentals. Based on President-elect Donald Trump's public commentary, the path toward corporate tax reform in the United States—which has the highest corporate tax burden in the developed world—seems clearer, especially alongside a Republican-controlled Congress. Tax reform could potentially be a major positive for the earnings prospects of equities generally and for our growth-oriented strategies. On the other hand, Trump's trade agenda could alter the path to growth for multi-national corporations. Our role as active managers is to discern how these issues may present risks or opportunities in the marketplace.
Positioning Beyond US Election Results
We feel comfortable for now with our current positioning and do not expect to make major thematic changes to our growth strategies as a result of Donald Trump's election victory. We seek to benefit from multi-year secular growth themes beyond near-term election results or even the tenure of a single US president. Information technology and health care will likely continue to be areas of focus for us in both 2017 and beyond. Innovation and a changing landscape are creating compelling opportunities for investment, in our view. For instance, the entire consumer landscape is evolving, with hyper-connected customers using smart devices to engage with businesses on an ongoing and personalized basis. On-demand taxi-hailing, online robo-advisors and Internet shopping are disrupting the transportation, financial advice and retail industries, respectively.
With e-commerce, a growing tide of consumer information requires artificial intelligence technology to make sense of the data. These secular shifts are stoking demand for payments infrastructure and cloud computing, which have been amplifying opportunities even for legacy industries, such as software within the information technology sector. We believe consumer-oriented companies that want to stay relevant will need to make software investments in order to make their customer experiences more seamless. In this regard, we see tech spending and investment as being much less discretionary than one might think, giving tech a resiliency factor not typically associated with the sector. We are also tracking the trajectory of the semiconductor industry and a possible positive inflection point: Self-driving cars may require a threefold increase in chip content per vehicle.
Health Care: Short-Term Uncertainties, Long-Term Opportunities
Within health care, it remains to be seen whether the Republican Party's call for a repeal of the Affordable Care Act will gain traction, which may reduce public access to health care services and, in turn, have potentially negative implications for some health care providers and medical device manufacturers. On the other hand, many drug companies have been under pressure in recent months due to market concerns that a Clinton administration would enact legislation to rationalize drug pricing, which would negatively affect pharmaceutical and biotechnology companies. Trump's victory may improve the outlook for top-line growth in that arena. Our investment process is to assess each opportunity and its long-term growth prospects on a case-by-case basis. Regardless, we believe there may be greater potential for growth for pharmaceutical and biotech companies with narrow competencies, such as gene-sequencing, hepatitis C cures and so-called orphan drugs, the latter of which target niche populations.
We believe the health care industry overall may benefit from myriad factors. An aging population globally and a swelling middle class in emerging markets could both drive increased consumption of routine health care services and demand for ever-more sophisticated treatments and cures. This demographic tailwind is fueling innovation in drug development and medical technology, and thus improving the prospects at select companies for robust sales and earnings. Future earnings power may be further boosted by innovation and technology-driven reductions in research expenses: For example, the cost of gene sequencing, which enables preventative screening and personalized medical treatment, has fallen faster than reasonably imagined just a few years ago.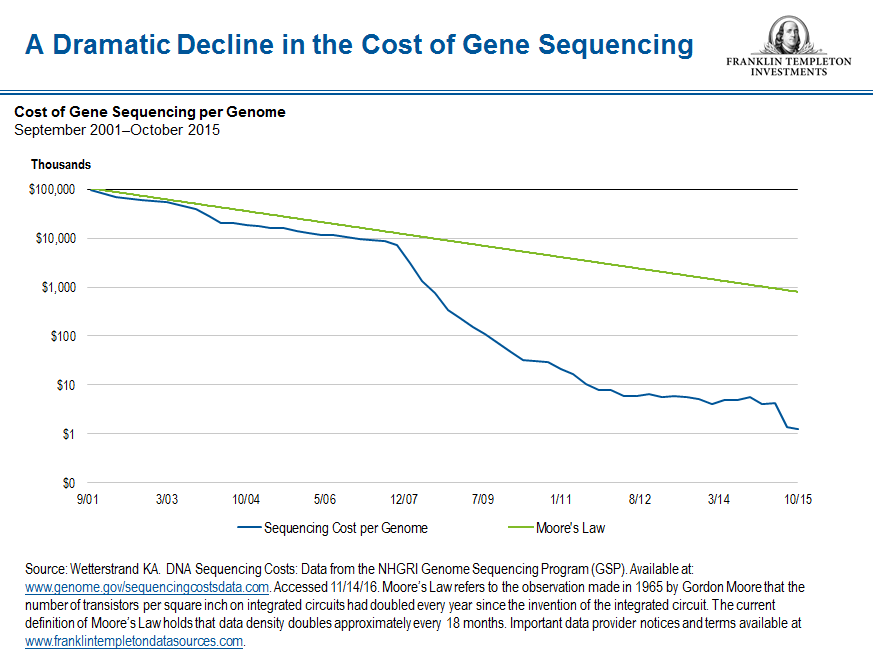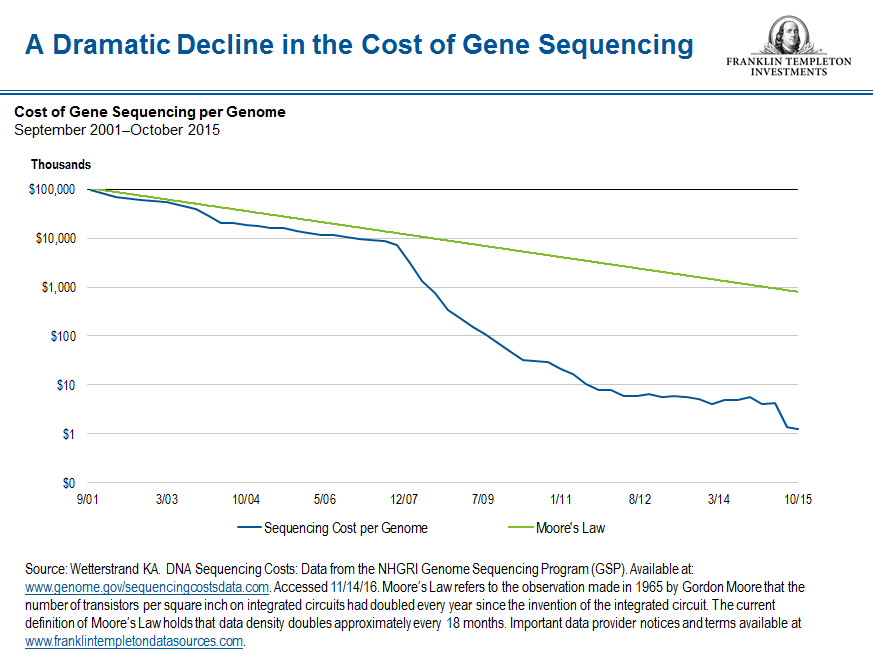 Rising Above Market Noise
In 2017, we will remain focused on our strategy of investing in companies that are leaders or emerging leaders in their industries, are led by strong management teams, demonstrate compelling growth characteristics, and display high levels of innovation. Importantly, we think the evolving political landscape and any resultant volatility are likely to present an excellent backdrop for fundamentally driven, active managers focusing on growth equities. Our bottom-up research process is used to identify and evaluate companies with strong competitive advantages that may trade at valuations that do not appear to reflect the growth opportunities we see.
The comments, opinions and analyses expressed herein are for informational purposes only and should not be considered individual investment advice or recommendations to invest in any security or to adopt any investment strategy. Because market and economic conditions are subject to rapid change, comments, opinions and analyses are rendered as of the date of the posting and may change without notice. The material is not intended as a complete analysis of every material fact regarding any country, region, market, industry, investment or strategy.
This information is intended for US residents only.
To get insights from Franklin Templeton Investments delivered to your inbox, subscribe to the Beyond Bulls & Bears blog.
For timely investing tidbits, follow us on Twitter @FTI_US and on LinkedIn.
CFA® and Chartered Financial Analyst® are trademarks owned by CFA Institute.
What Are the Risks?
All investments involve risks, including possible loss of principal. Stocks historically have outperformed other asset classes over the long term, but tend to fluctuate more dramatically over the short term. Investments in fast-growing industries, including the technology and health care sectors (which have historically been volatile) could result in increased price fluctuation, especially over the short term, due to the rapid pace of product change and development and changes in government regulation of companies emphasizing scientific or technological advancement or regulatory approval for new drugs and medical instruments. Small- and mid-capitalization companies can be particularly sensitive to changing economic conditions, and their prospects for growth are less certain than those of larger, more established companies.