Beyond Bulls & Bears: How did you get into the investment management business?
Serena Perin Vinton: After I graduated from Brown University, I participated in an internship at the UK Parliament in London, and then lived with a family in Barcelona for four months to study Spanish. When I returned to the United States and considered where I was going to begin my career, my father told me to pick the place where I wanted to live and then go find a job there. At that time, I was really into windsurfing, mountain biking and skiing. I wanted to live in a place where I could do all of those things and still have a career, so I chose the San Francisco Bay Area.
I looked at various management training (MT) programs in the region, and since I've always liked numbers and analysis, I chose Franklin's program. My first rotation was in the mailroom. It was quite an eye-opener. I thought, "Here I am with an Ivy League education, and I'm working in a mailroom." But my dad said, "Buck up. You better work hard and do the best job you can do."
My second rotation was with the international fixed income team. I was chosen because I was the only management trainee with international experience. It worked out, and I was hired out of the MT program into a permanent full-time job.
I was on the international fixed income side from 1991 to 1995. When Franklin bought Templeton in 1992, my boss and I were transferred to Fort Lauderdale to reorganize the group. I had been in Florida for a year and a half when an opportunity to return to the Bay Area came up, and that's when I moved to the equity side with Franklin.
Beyond Bulls & Bears: What defines your approach as a portfolio manager, and where are you finding investment opportunities at the moment?
Serena Perin Vinton: I look for solid, high-quality businesses that we can own for the long term. Right now, however, finding opportunities has been a little more challenging because of valuations. In the beginning of 2016, we had some opportunities with concerns surrounding weakness in China, Brazil and the energy market. The United Kingdom's vote to leave the European Union brought additional opportunities in early summer. During that time, we added to a number of names to the portfolio.
Additionally, during the course of the year, concerns surrounding pharmaceuticals, biotech and drug pricing gave us an opportunity to add to some biotech names to the portfolio. It's been a bit more challenging in the last few months, so we have been pretty quiet recently.
Beyond Bulls & Bears: What has been the most challenging market you've faced in your career?
Serena Perin Vinton: The 2008-2009 financial crisis certainly ranks right up there. Another challenging time was during the Scandinavian banking crisis in 1993, when the region's currencies devalued significantly. I was co-managing an international fixed income fund at the time.
I'll never forget it. The fund's senior portfolio manager was traveling, so a top Franklin executive kept calling me to check in on our strategy. I'd never been so stressed out. Traders were also calling me at home at 2, 3, 4 o'clock in the morning about hedges. I was just praying I was doing the right thing. I was in my early 20s and had been on the job for only two years, but there I was, handling a lot of money. It was very stressful, but we got through it relatively unscathed.
Beyond Bulls & Bears: You worked closely with legendary Franklin portfolio manager Jerry Palmieri (who died in 2014) as you were merging your respective funds in 2009. What did you learn from Jerry during the process?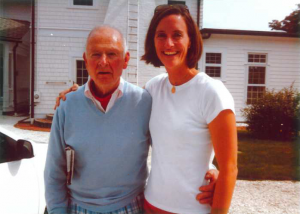 Serena Perin Vinton: I started working unofficially with Jerry in 2008, more than a year before the fund I was managing was merged with the fund he was managing. I called it our "courting period."
We spent the first year figuring out how we were going to manage the now-merged fund together. I had been a lead manager for 10 years, and he'd been a lead manager for over 40. It was a big adjustment for both of us, but we respected each other and decided to work as co-lead managers. If we disagreed strongly about an investment, we didn't make it.
From Jerry, I learned patience and how to take the long view and shut out the short-term noise. And, he taught me that sometimes the most uncomfortable decisions are the most rewarding. He always said, "This is not a go-go fund, because go-go funds become go-gone." He always said that he didn't want to ever be the reason why someone couldn't send his kid to college, so the strategy emphasized downside protection. He made me realize that in this business, experience does matter, and portfolio managers can become more seasoned and better investors over time by learning from that experience.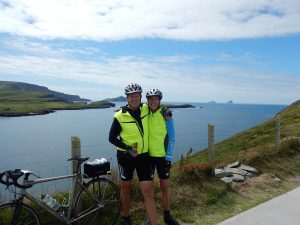 Beyond Bulls & Bears: Do you have any hobbies or interests outside of work?
Serena Perin Vinton: I became interested in mountain climbing through my parents. My first trek was with my father, and we climbed the Kangshung Face of Mount Everest. It was a long, 18-day trip. It took us a few days in Jeeps driving across the Tibetan plateau just to get to the starting point, and we trekked through some places where, literally, little kids who had never seen a white person would come up to us and want to touch our skin. They were beautiful, friendly people and incredibly warm.
I completed my second trek on Mount Kilimanjaro with my husband, Henry. My father, my husband and I also have climbed various peaks in Idaho, where we'll hire a guide because there's no trail.
Additionally, I play tennis, cycle and run, and I try to do yoga once a week. And then there are all of my kids' activities, which entail a lot of driving around on the weekends.
Beyond Bulls & Bears: We understand you were both an apprentice ballerina with the Dallas Ballet Company as a youngster and a member of a championship crew team while at Brown University. How would you compare the two activities?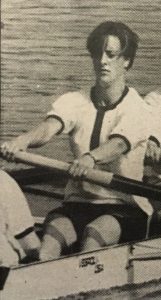 Serena Perin Vinton: Rowing was harder. I learned discipline in ballet, but I did not learn teamwork. In rowing, you not only had to be disciplined, but you were forced to be the epitome of a team player because it took eight people to row in sync. There were no stars on that boat. Everyone had a place, everyone had a role, and if anyone was out of sync, it threw the entire boat off. It's not only physically one of the most painful things, but mentally you have to overcome the physical pain. You have to block it out. When you're in a 2,000-meter race it's painful all of the time. You're pushing your body to the limit.
During a race, I pulled my intercostal muscle, which is the muscle that holds your rib cage together. It turns out that I had cracked a rib during the race, and I didn't even know it until I went to pick up the boat out of the water. That's when I felt it.
Most people who are into rowing are kind of crazy because it is so intense and you become obsessed with it. There are times when you want to quit, but you just learn to never give up. That attitude has helped me in this business because there have been points of time in my career that have been really challenging, and it's given me the perseverance to keep going forward and not give up. I learned more in a boat than I ever did in a classroom.
Serena Perin Vinton's comments, opinions and analyses are for informational purposes only and should not be considered individual investment advice or recommendations to invest in any security or to adopt any investment strategy. Because market and economic conditions are subject to rapid change, comments, opinions and analyses are rendered as of the date of the posting and may change without notice. The material is not intended as a complete analysis of every material fact regarding any country, region, market, industry, investment or strategy.
This information is intended for US residents only.
To get insights from Franklin Templeton Investments delivered to your inbox, subscribe to the Beyond Bulls & Bears blog.
For timely investing tidbits, follow us on Twitter @FTI_US and on LinkedIn.
CFA® and Chartered Financial Analyst® are trademarks owned by CFA Institute.
What Are the Risks?
Franklin Growth Fund
All investments involve risks, including possible loss of principal. Historically, the fund has focused on larger companies. The fund may also invest in small, relatively new and/or unseasoned companies, which involves additional risks, as the price of these securities can be volatile, particularly over the short term. The fund may focus on particular sectors of the market from time to time, which can carry greater risks of adverse developments in such sectors. In addition, the fund may invest up to 40% of its net assets in stocks of foreign companies, which involve special risks, including currency fluctuations and economic as well as political uncertainty. These and other risks are described more fully in the fund's prospectus.
Investors should carefully consider a fund's investment goals, risks, sales charges and expenses before investing. Download a prospectus, which contains this and other information. Please carefully read a prospectus before you invest or send money.