The payments ecosystem underpins the way we use credit and debit cards to buy goods and services, and it is undergoing significant upheaval.
The emergence of new technology in the space, along with modified customer behavior, is driving these changes.
Despite the shifting landscape and potential threats to established players in the space, we believe card networks should remain well-positioned and could enjoy solid future growth for many reasons.
What Happens When You Pay by Card
Card transactions rely on a payments ecosystem known as the four-party card system. As the name implies, there are four constituent parties involved:
Merchants: Retailers that accept payment for goods and services by card.
Merchant Acquirers and Processors: Companies that contract with merchants to accept card payments. The merchant acquirers and processors work alongside the card networks and provide payment processing and settlement services and reporting.
Card Networks: The card networks, such as Visa or Mastercard, provide additional processing and operational systems and essentially act as a liaison between the merchant acquirers and processors and the issuing banks.
Issuing Banks: The financial institution that issues the card to account holders.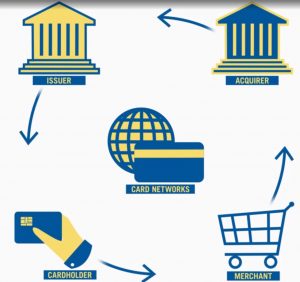 Broadly speaking, each time a consumer swipes his or her card in-store or pays with a card online, the transaction will move from the merchant to the merchant acquirers and processors. Then it moves to the card network and finally on to the issuing banks for validation.
The Drivers of Disruptive Change
The evolution of e-commerce and growing smartphone penetration remain the two most often cited drivers for change in the payment ecosystem.
Smartphones are giving consumers more ways to pay in-store and online through digital wallets, QR codes and in-app payment capabilities. However, cards still largely fund these digital wallets, and mobile payment methods will likely help accelerate the replacement of cash with electronic payments.
That being said, certain changes in technology are introducing new risks to the payment ecosystem. For example, e-commerce is causing a new class of competitors to rise, including companies like PayPal. Despite current partnerships with card networks, these players could pose long-term disintermediation risks to the networks if an increasing amount of transaction volume were to become directly connected to consumer bank accounts.
Despite the changing landscape and potential threats, we believe there is still room for solid future growth ahead.
In developed markets, where there is high penetration of cards and widespread merchant acceptance as well as card-based loyalty reward programs, cards are still the preferred way to pay.
We believe the business-to-business market is another area with growth potential for card networks. It's a large market where checks are still used to make many payments. We feel there is a strong opportunity for the card networks to gain share here over time.
A New Front Opens in Emerging Markets
In addition, alternative local payment methods that completely bypass the traditional four-party card systems are becoming increasingly common in some markets, primarily in emerging markets with underdeveloped banking systems.
In China, for example, the retailing behemoth Alibaba has been able to extend its dominance in e-commerce to online and mobile payments with AliPay, its own third-party payment system.
Still, we believe card penetration still has room to grow globally even in emerging markets, where the card companies are aggressively working to ensure long-term success and avoid displacement from the alternative local payment methods.
Pockets of Investment Opportunities Remain
The merchant acquirer and processor space faces the most risk of disruption, in our view, as many new players are entering this market to simplify payments processing.
Conversely, we feel the card networks have wider scope than other players within the payments value chain and continue to present compelling investment opportunities at this time.
We believe there are pockets of potential investment opportunities among payment service providers with disruptive technologies and business models―those looking to consolidate the merchant acquirer and processor space with a single-platform approach―and companies with e-commerce platforms that have integrated omni-channel payments support.
To learn more about how cryptocurrencies, blockchain and digital payments are changing our world, visit: Taken On Trust: Disrupting Money
This material reflects the analysis and opinions of the speakers and may differ from the opinions of Franklin Templeton Investments' portfolio managers, investment teams or platforms. It is intended to be of general interest only and should not be construed as individual investment advice or a recommendation or solicitation to buy, sell or hold any security or to adopt any investment strategy. It does not constitute legal or tax advice.
The views expressed are those of the speakers, and the comments, opinions and analyses may change without notice. The information provided in this material is not intended as a complete analysis of every material fact regarding any country, region, market, industry, security or strategy. Statements of fact are from sources considered reliable, but no representation or warranty is made as to their completeness or accuracy.
This information is intended for US residents only.
CFA® and Chartered Financial Analyst® are trademarks owned by CFA Institute.
To get insights from Franklin Templeton Investments delivered to your inbox, subscribe to the Beyond Bulls & Bears blog.
For timely investing tidbits, follow us on Twitter @FTI_US and on LinkedIn.
What Are the Risks?
All investments involve risks, including possible loss of principal. Stock prices fluctuate, sometimes rapidly and dramatically, due to factors affecting individual companies, particular industries or sectors, or general market conditions. Commercial banks, savings and loan associations, and holding companies of such are especially subject to adverse effects of volatile interest rates, concentrations of loans in particular industries, and significant competition. Profitability of these businesses depends significantly upon the availability and cost of capital funds. Banks and financial services companies could suffer losses if interest rates rise or economic conditions deteriorate. Investments in foreign markets involve special risks including currency fluctuations, economic instability and political developments, investments in emerging market countries involve heightened risk related to the same factors, in addition to those associated with these markets' smaller size, lesser liquidity and lack of established legal, political, business and social frameworks to support securities markets. Such investments could experience significant price volatility in any given year.