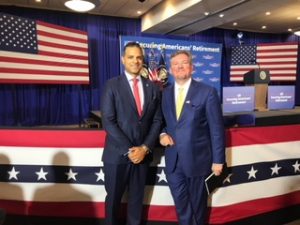 On August 31, President Donald Trump signed the "Executive Order (EO) on Strengthening Retirement Security in America," that, among other things, calls for less-restrictive rules for open multiple employer plans (MEPs).
Under current law, employers using MEPs must have some kind of connection, like a common profession. The EO calls for changes that would allow unrelated businesses to join together to offer MEPs to their employees. Previously, that would not have been allowed.
Additionally, the EO directs the US Department of the Treasury to review the rules for calculating required minimum distributions from retirement plans and to work with the Department of Labor to consider ways to reduce paperwork and improve notice requirements.
The public and private sectors have successfully worked in partnership over the last several decades to strengthen our retirement system, which is now at record levels with close to $30 trillion in assets.1 We believe employer-sponsored defined contribution plans that provide important protections to the Employee Retirement Income Security Act of 1974 (ERISA) are the most effective way to help US workers and their families reach their retirement goals.
We feel strongly that this Executive Order will be an important step in reducing expenses and regulatory barriers for small business owners and will help expand access to ERISA-protected, employer-sponsored plans for millions of US workers. We are pleased and encouraged by the cross-agency collaboration and the focus of this administration on strengthening retirement security for all Americans.
We also support the provision focused on calculations for required minimum distributions (RMDs) that addresses the increased life expectancy of Americans. In addition, we continue to be supportive of a similar legislative effort, the Retirement Enhancement and Savings Act (RESA), which would also expand access to retirement plans and in-plan income solutions.
As we noted in "Talking Markets" podcasts in April and July, we've seen more focus in Washington on retirement-policy related issues. We are pleased and encouraged by the cross-agency collaboration and the focus of the Trump administration on strengthening retirement security for all Americans.
Stay tuned! In this week's edition of "Talking Markets," we will provide a more in-depth analysis on MEPs as well as legislative proposals that could have a major impact on retirement plans.
Important Legal Information
All financial decisions and investments involve risks, including possible loss of principal.
This communication is general in nature and provided for educational and informational purposes only. It should not be considered or relied upon as legal, tax or investment advice or an investment recommendation, or as a substitute for legal or tax counsel. Any investment products or services named herein are for illustrative purposes only, and should not be considered an offer to buy or sell, or an investment recommendation for, any specific security, strategy or investment product or service. Always consult a qualified financial professional or your own independent financial advisor for personalized advice or investment recommendations tailored to your specific goals, individual situation and risk tolerance.
Franklin Templeton Investments (FTI) does not provide legal or tax advice. Federal and state laws and regulations are complex and subject to change, which can materially impact results. FTI cannot guarantee that such information is accurate, complete or timely; and disclaims any liability arising out of your use of, or any tax position taken in reliance on, such information.
Because market and economic conditions are subject to rapid change, comments, opinions and analyses are rendered as of the date of the posting and may change without notice. The material is not intended as a complete analysis of every material fact regarding any country, region, market, industry, investment or strategy.
Data from third party sources may have been used in the preparation of this material and FTI has not independently verified, validated or audited such data. FTI accepts no liability whatsoever for any loss arising from use of this information and reliance upon the comments opinions and analyses in the material is at the sole discretion of the user.
CFA® and Chartered Financial Analyst® are trademarks owned by CFA Institute.
This information is intended for US residents only.
To get insights from Franklin Templeton Investments delivered to your inbox, subscribe to the Beyond Bulls & Bears blog.
For additional timely insights, follow us on Twitter @FTI_US and on LinkedIn.
___________________________
1. Source: Investment Company Institute, data as of June 2018.