The world's medical and scientific community and health care, pharmaceutical and biotechnology companies are working more closely together than ever as our societies and economies seismically shift to new ways of engaging in life and commerce in response to the COVID-19 virus.
As global investors, we focus on data-driven and boots-on-the-ground research about COVID-19, and possible prevention, treatments and vaccines. Some of the positive steps the healthcare community is taking include:
The virus responsible for COVID-19, "SARS-CoV-2," also referred to as the "coronavirus," has been identified and genetically sequenced and open-sourced for scientists to use.
Most coronavirus data and research is public and open platform, enabling sharing of knowledge about prevention, treatments and vaccines.
Our investment research teams are monitoring scores of possible vaccines for the SARS-CoV-2 coronavirus and efficacious prevention and treatments for COVID-19.
Biotechnology and pharmaceutical companies globally are focused on prevention, treatments and vaccines for mitigating the coronavirus and COVID-19's course.
Below is a short summary of five COVID-19 treatments in newsworthy research studies as of today, supplied by Evan McCulloch and our Franklin Equity Group health care and biotechnology research analysts.
Most Advanced Drugs for COVID-19
Evan McCulloch, CFA
The rapid mobilization by biotechnology and pharmaceutical companies to produce treatments and vaccines for COVID-19 looks impressive. Of the scores of key vaccine programs in various stages of development, as of today, we are most impressed with companies that have quickly advanced vaccine candidates into human clinical trials within months of the identification and sequencing of the SARS-CoV-2 virus.
While currently there are no US Food and Drug Administration (FDA)-approved drugs specifically for the prevention and treatment of patients with COVID-19, there are hundreds of known clinical trials that are underway globally.1 We're also watching scores more investigational drugs and agents, including treatments already approved for other indications currently in use in the United States.
However, development takes time, it's unknown what may be available near term, and today's reports reveal how quickly research resulting from the COVID-19 pandemic could be obsolete tomorrow.
Of the scores of preventative measures, treatments and vaccines in development, five products highlighted below are newsworthy. We're encouraged that biotechnology and pharmaceutical industries can continue to innovate in efforts to contain COVID-19's current pandemic course, and are optimistic that an FDA-approved efficacious treatment can be produced for potentially life-saving treatments.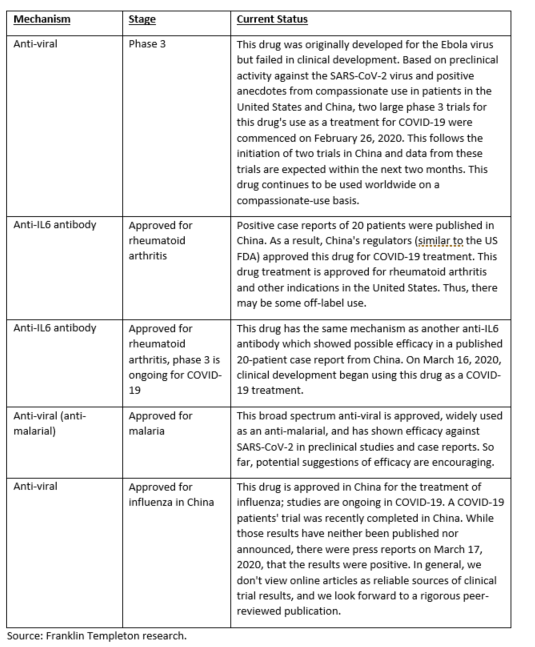 Important Legal Information
This material is intended to be of general interest only and should not be construed as individual investment advice or a recommendation or solicitation to buy, sell or hold any security or to adopt any investment strategy. It does not constitute legal or tax advice. The views expressed are those of the investment manager and the comments, opinions and analyses are rendered as of March 25, 2020, and may change without notice. The information provided in this material is not intended as a complete analysis of every material fact regarding any country, region or market.
Data from third party sources may have been used in the preparation of this material and Franklin Templeton Investments ("FTI") has not independently verified, validated or audited such data. FTI accepts no liability whatsoever for any loss arising from use of this information and reliance upon the comments, opinions and analyses in the material is at the sole discretion of the user.
Products, services and information may not be available in all jurisdictions and are offered outside the U.S. by other FTI affiliates and/or their distributors as local laws and regulation permits. Please consult your own professional adviser or Franklin Templeton institutional contact for further information on availability of products and services in your jurisdiction.
Issued in the U.S. by Franklin Templeton Distributors, Inc., One Franklin Parkway, San Mateo, California 94403-1906, (800) DIAL BEN/342-5236, franklintempleton.com—Franklin Templeton Distributors, Inc. is the principal distributor of Franklin Templeton Investments' U.S. registered products, which are not FDIC insured; may lose value; and are not bank guaranteed and are available only in jurisdictions where an offer or solicitation of such products is permitted under applicable laws and regulation.
CFA® and Chartered Financial Analyst® are trademarks owned by CFA Institute.
What Are the Risks?
All investments involve risks, including possible loss of principal. Stock prices fluctuate, sometimes rapidly and dramatically, due to factors affecting individual companies, particular industries or sectors, or general market conditions. Investments in fast-growing industries like the biotechnology sector could result in increased price fluctuation, especially over the short term, due to the rapid pace of product change and development and changes in government regulation of companies emphasizing scientific or technological advancement, or regulatory approval for new drugs and medical instruments. Biotechnology companies often are small and/or relatively new. Smaller companies can be particularly sensitive to changes in economic conditions and have less certain growth prospects than larger, more established companies and can be volatile, especially over the short term. Investing in foreign companies involves special risks, including currency fluctuations and political uncertainty. Investments in emerging markets, of which frontier markets are a subset, involve heightened risks related to the same factors, in addition to those associated with these markets' smaller size, lesser liquidity and lack of established legal, political, business and social frameworks to support securities markets. Because these frameworks are typically even less developed in frontier markets, as well as various factors including the increased potential for extreme price volatility, illiquidity, trade barriers and exchange controls, the risks associated with emerging markets are magnified in frontier markets.
_______________________
1. Source: National Institutes of Health, US National Library of Medicine, www.clinicaltrials.gov, as of March 24, 2020.