Q: Growing up, what did you aspire to be?
Barber: We just found an autobiography I did in 6th grade in which I wrote that I wanted to be a motorcycle salesman. Thinking back, it makes a lot of sense to me now. I grew up the youngest of six kids—and my dad, brothers and I used to ride motorcycles quite a bit through the Mojave Desert. I have really fond memories of those times. So, I'm not surprised that I figured I could make a career out of something I loved.
Q: How did you end up in the investment management business?
Barber: I joined the management training program at Franklin Templeton right out of undergrad. For my third rotation, I got a spot as a research analyst in muni bonds and immediately loved it. However, I was a political science major and had no accounting or finance background. I spent the next couple of years taking night classes at UC Berkeley Extension and Golden Gate University in preparation for business school. Eventually, I completed the Chartered Financial Analyst program to help round out my education.
Q: You recently returned to Franklin Templeton in the San Francisco Bay Area after spending years at another investment firm in New York City. Has anything surprised you on a personal or professional level since you came back?
Barber: That's an impossible question to properly answer because I started back at Franklin Templeton in late April and have spent just one entire day in the office! That said, I've been very impressed with the remote working environment. Everyone is very accessible and has been very accommodating in helping me get re-acquainted with the company.
Q: Do you see any advantages to having Franklin Templeton's headquarters located in Silicon Valley, in terms of tapping into new technology or incorporating data science?
Barber: That's a great question because the muni team is very much taking advantage of new technologies to enable more and better analysis not only for our credit research but also for our trading efforts. One of the things I've been very impressed with is the ease with which the muni team has adapted to working remotely. I think, without a doubt, our corporate headquarters location in Silicon Valley lends itself to a very tech-savvy workforce.
Q: What is the hardest part of your current role, and what is the most rewarding?
Barber: I really enjoy the job of investing—and competing every day for the trust of existing and potential investors. Working with the other team members to think through credits, interest rates and overall risk management and positioning. We know we're not going to win every time, but having a repeatable process that focuses on our areas of strength may lead to good results over time. Setting up and executing that process is the most challenging but also most rewarding part of the job. I also really enjoy spending time with clients—whether internal or external.
Q: What have you learned from positioning Franklin's muni team for success amid the COVID-19 pandemic?
Barber: We believe the pandemic has emphasized how active management and a sharp focus on research should be vital in succeeding as an investor in munis. Credit fundamentals have changed across every sector. The question we are wrestling with is—what are the temporary impacts? And what are the longer-term and maybe even permanent impacts to credits across the muni asset class? Our team will continue to work very hard at positioning the portfolios with the right balance between playing defense in a changing credit fundamental environment, but also playing offense when new opportunities arise.
Q: Are there certain industry trends you are particularly excited about?
Barber: Generally, the most exciting times in our market revolve around significant pressures—usually created by a sharp imbalance between supply and demand. I feel that our muni team is particularly well situated for these market opportunities. Besides overall market opportunities, I'm really excited about our new Franklin Municipal Green Bond Fund. It's the first of its kind—and we hope it fulfills a pocket of demand for environmentally focused investors.
Q: Is there one piece of advice you've received during your career that you still rely on today?
Barber: I love the old adage "work hard, play hard." My father-in-law was head of the geophysics department at UC Berkeley for many years and dedicated his life to educating others on earthquake preparedness. He consulted on large civil engineering projects, wrote books and lectured around the world. However, he was also very interested in travel, politics and even amateur acting! I'm confident that his interests and life experiences outside of his work contributed to his career successes.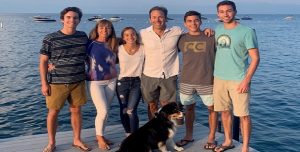 Q: Any passions or hobbies outside of work you would like to share?
Barber: Our family has a very active lifestyle—I really enjoy trying to keep up with my kids, who have mostly surpassed me in athletic endeavors! I did recently take up golf, which has been a very fun but also extremely humbling experience.
Important Legal Information
This material is intended to be of general interest only and should not be construed as individual investment advice or a recommendation or solicitation to buy, sell or hold any security or to adopt any investment strategy. It does not constitute legal or tax advice.
The views expressed are those of the investment manager and the comments, opinions and analyses are rendered as of publication date and may change without notice. The information provided in this material is not intended as a complete analysis of every material fact regarding any country, region or market.
Data from third party sources may have been used in the preparation of this material and Franklin Templeton ("FT") has not independently verified, validated or audited such data. FT accepts no liability whatsoever for any loss arising from use of this information and reliance upon the comments, opinions and analyses in the material is at the sole discretion of the user.
Products, services and information may not be available in all jurisdictions and are offered outside the U.S. by other FT affiliates and/or their distributors as local laws and regulation permits. Please consult your own investment professional or Franklin Templeton institutional contact for further information on availability of products and services in your jurisdiction.
Issued in the U.S. by Franklin Templeton Distributors, Inc., One Franklin Parkway, San Mateo, California 94403-1906, (800) DIAL BEN/342-5236, franklintempleton.com—Franklin Templeton Distributors, Inc. is the principal distributor of Franklin Templeton's U.S. registered products, which are not FDIC insured; may lose value; and are not bank guaranteed and are available only in jurisdictions where an offer or solicitation of such products is permitted under applicable laws and regulation.
This information is intended for US residents only.
CFA® and Chartered Financial Analyst® are trademarks owned by CFA Institute.

What Are the Risks?
Franklin Municipal Green Bond Fund
All investments involve risks, including possible loss of principal. Because municipal bonds are sensitive to interest rate movements, the fund's yield and share price will fluctuate with market conditions. Bond prices generally move in the opposite direction of interest rates. Thus, as prices of bonds in the fund adjust to a rise in interest rates, the fund's share price may decline. Changes in the credit rating of a bond, or in the credit rating or financial strength of a bond's issuer, insurer or guarantor, may affect the bond's value. Some sectors might be more likely to issue green bonds, and events or factors impacting these sectors may have a greater effect on, and may more adversely affect, the fund than they would a fund that does not invest in issuers with a common purpose. Green bonds may not result in direct environmental benefits and the issuer may not use proceeds as intended or to appropriate new or additional projects. The fund may invest a significant part of its assets in municipal securities that finance similar types of projects, such as utilities, hospitals, higher education and transportation. A change that affects one project would likely affect all similar projects, thereby increasing market risk. Impacts on sectors more likely to issue green bonds may have a greater adverse effect on the fund because the fund focuses investments in green bonds. These and other risks are detailed in the fund's prospectus.
Investors should carefully consider a fund's investment goals, risks, sales charges and expenses before investing. Download a prospectus, which contains this and other information. Please carefully read a prospectus before you invest or send money.