What's your vision of retirement? Sitting on a beach with a good book? Learning a new language? Spending more time with the grandkids? There is no one-size-fits all when it comes to retirement, and Franklin Templeton's "Voice of the American Worker" survey confirms that retirement today feels "less cookie cutter than it used to be," according to 82% of those polled.1
The vast majority of respondents (88%) indicated that retirement now looks different for everyone, and there is no single path to retirement. Views on retirement differ by generation, with a majority of those surveyed envisioning that their financial future will be different from their grandparents, parents and children.
Our inaugural survey, conducted by The Harris Poll on behalf of Franklin Templeton, is connected to Franklin Templeton's Retirement Innovation Initiative (RII), which launched in January 2020. RII's mission is to bring together industry experts who share the same vision—improving the future of retirement in the United States. With this in mind, "Voice of the American Worker" was fielded to help validate what has been widely suspected—that participants are seeking more personalized solutions to meet their unique goals. Of course, having adequate financial resources is critical, and funding one's retirement has evolved from prior generations where employer-funded defined benefit plans on top of Social Security benefits had assured many people a comfortable post-work life.
The subsequent rise of defined contribution plans—like 401(k) plans—has put the employee in the driver's seat in terms of directing the portion of their paychecks they want to earmark toward retirement (often with a company match) and selecting their investments. While this autonomy can be a good thing—it also requires more careful planning and monitoring. Individuals can benefit from personalized guidance to achieve their financial goals—an area where a financial advisor can help. Our survey also showed many are also looking to their employers for tools and resources.
A More Holistic View: Financial Health Now Part of Overall Health
As retirement is reimagined, "wellbeing" becomes more central to financial health, too. The vast majority of survey respondents associate their current physical (74%), mental (70%) and financial (66%) health with wellbeing. More than half say their financial wellbeing isn't just about money but includes their health and lifestyle (57%).
Interestingly, while workers today place nearly equal importance on mental (81%), physical (80%) and
financial (76%) health, they feel least in control of their financial (55%) health as compared to physical (62%) and mental (58%) health.
Many respondents struggle to find a holistic view, with 61% indicating they need to consult many sources to get an overall picture of their finances, and 51% stating it is too complicated to integrate all of their financial info and goals into a single picture. Seventy percent would like a "Fitbit-like program for their finances" to easily track everything all in one place.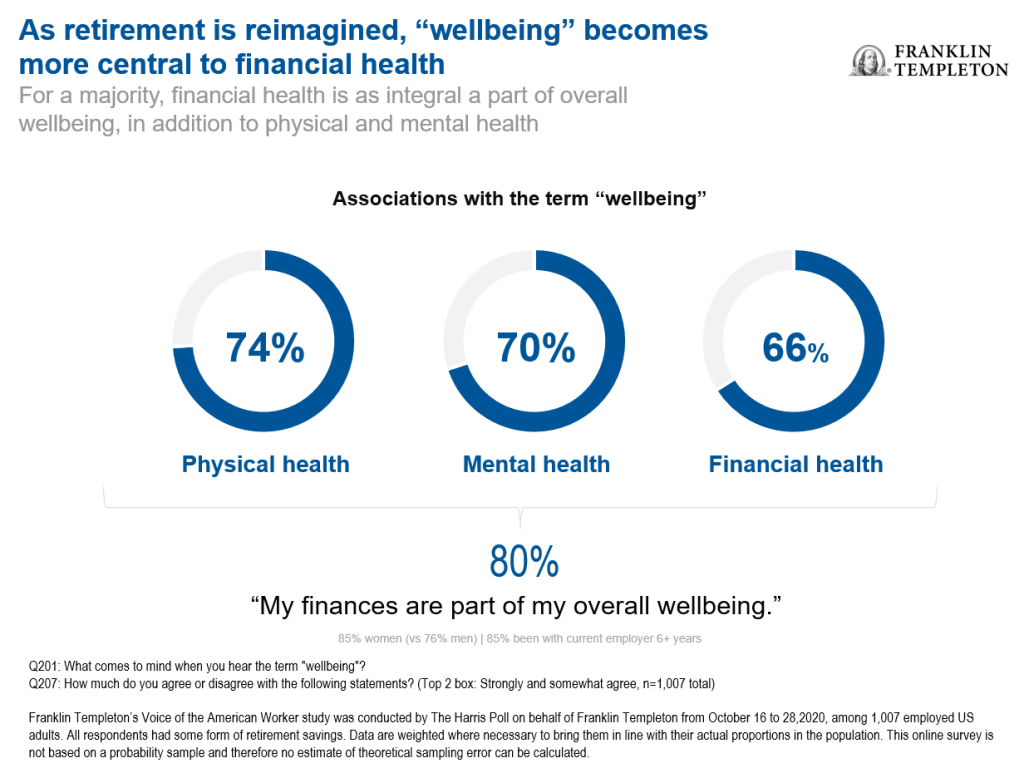 Changing Retirement Landscape: Financial Freedom is Top Priority
Whether by choice, or due to health concerns or other circumstances, "retirement" doesn't always mean leaving the workforce entirely at a certain age—and it can change over time.
Eighty percent of respondents agree that the traditional idea of retirement is no longer accurate for most people's expectations or experiences, while at the same time, three quarters (75%) say that their future financial goals and plans look different today than they did five years ago. Respondents also feel it is more important to achieve financial freedom than to retire, but that financial freedom is not always as attainable. More specifically, 76% of respondents say there is appeal in achieving financial freedom, while only 56% think it is likely achievable. At the same time, 69% say there is appeal in retirement, while 61% say it is likely achievable—a notably smaller gap.
Workers identified their most important financial milestones today as financial freedom (76%) and financial independence (74%), also indicating that financial independence feels more empowering than retirement (81%). And, more women than men said they found financial independence appealing.
Workers are also looking to their employers to help them achieve long-term financial health and optimize their overall wellbeing. Technology will play an integral role for employers and employees to address these needs. New innovations will allow individuals to reap the rewards, and educate themselves, so they may achieve financial independence.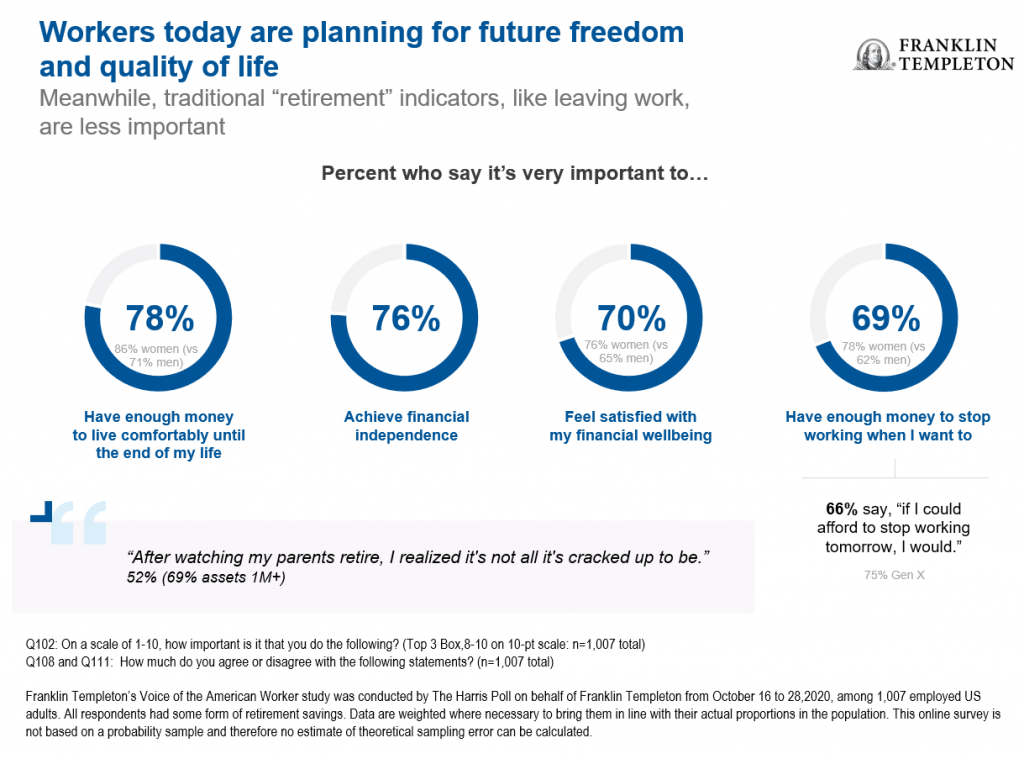 The Future of Benefits: Closing the Financial Health Gap
Three out of four workers in our survey want their workplace to provide more resources to help them with their overall financial wellbeing, believing their employer should provide incentives for good financial habits as well as good health habits. In fact, workers are more interested in long-term support, over today's monetary gains, with most preferring a boosted 401(k) match to a raise.
Additionally, nine in 10 respondents were also looking for tools to visualize their future and optimize wellbeing, with top choices being planning tools and resources (89%).
As financial futures become more fluid, personalization is non-negotiable. Nearly three quarters (73%) of workers expect their financial management apps and programs to use what they know about them to
suggest the most appropriate resources, while 62% say, "unless I am getting personalized recommendations, I feel like financial education isn't very helpful."
Americans are seeking a holistic and consolidated view of their finances to achieve overall financial health:
73% said they wish there was a resource that combined the financial view of their entire household.
73% said they wish there were more ways to get a view of their overall wellbeing.
62% said they wish they had a "wellbeing coach" to help with all areas of wellness not just physical or financial.
Not only is the concept of retirement unique to each individual, many aren't certain they even want to retire. Our survey revealed a slim majority (52%) who expressed the view: "after watching my parents retire, I realized it's not all it's cracked up to be." And among millennials, GenXers and baby boomers—it probably isn't a surprise that millennials were the least optimistic about their ability to retire. The good news is there is still plenty of time—and many employers are doing their part to help bridge the gap.
Important Legal Information
This material is intended to be of general interest only and should not be construed as individual investment advice or a recommendation or solicitation to buy, sell or hold any security or to adopt any investment strategy. It does not constitute legal or tax advice. This material may not be reproduced, distributed or published without prior written permission from Franklin Templeton.
The views expressed are those of the author and the comments, opinions and analyses are rendered as at publication date and may change without notice. The underlying assumptions and these views are subject to change based on market and other conditions and may differ from other portfolio managers or of the firm as a whole. The information provided in this material is not intended as a complete analysis of every material fact regarding any country, region or market. There is no assurance that any prediction, projection or forecast on the economy, stock market, bond market or the economic trends of the markets will be realized. The value of investments and the income from them can go down as well as up and you may not get back the full amount that you invested. Past performance is not necessarily indicative nor a guarantee of future performance. All investments involve risks, including possible loss of principal.
Any research and analysis contained in this presentation has been procured by Franklin Templeton for its own purposes and may be acted upon in that connection and, as such, is provided to you incidentally. Data from third party sources may have been used in the preparation of this material and Franklin Templeton ("FT") has not independently verified, validated or audited such data. Although information has been obtained from sources that Franklin Templeton believes to be reliable, no guarantee can be given as to its accuracy and such information may be incomplete or condensed and may be subject to change at any time without notice. The mention of any individual securities should neither constitute nor be construed as a recommendation to purchase, hold or sell any securities, and the information provided regarding such individual securities (if any) is not a sufficient basis upon which to make an investment decision. FT accepts no liability whatsoever for any loss arising from use of this information and reliance upon the comments, opinions and analyses in the material is at the sole discretion of the user.
Products, services and information may not be available in all jurisdictions and are offered outside the U.S. by other FT affiliates and/or their distributors as local laws and regulation permits. Please consult your own financial professional or Franklin Templeton institutional contact for further information on availability of products and services in your jurisdiction.
Issued in the U.S. by Franklin Distributors, LLC., One Franklin Parkway, San Mateo, California 94403-1906, (800) DIAL BEN/342-5236, franklintempleton.com – Franklin Distributors, LLC, member FINRA/SIPC, is the principal distributor of Franklin Templeton U.S. registered products, which are not FDIC insured; may lose value; and are not bank guaranteed and are available only in jurisdictions where an offer or solicitation of such products is permitted under applicable laws and regulation.
Please visit www.franklinresources.com to be directed to your local Franklin Templeton website.
Franklin Distributors, LLC. Member FINRA/SIPC. Prior to July 7, 2021, Franklin Templeton Distributors, Inc., and Legg Mason Investor Services, LLC served as mutual fund distributors for Franklin Templeton.
_________________________________
1. Franklin Templeton's Voice of the American Worker study was conducted by The Harris Poll on behalf of Franklin Templeton from October 16 to 28, 2020, among 1,007 employed U.S. adults. All respondents had some form of retirement savings. Data are weighted where necessary to bring them in line with their actual proportions in the population. This online survey is not based on a probability sample and therefore no estimate of theoretical sampling error can be calculated.