The last few years have changed our lives in many ways, causing individuals to examine how they feel about their careers. The second edition of our "Voice of the American Worker" survey revealed that US workers are re-evaluating how they think about their jobs and what they expect from employers. Respondents also expressed a focus on financial independence and well-being. We share findings from the survey, and potential implications for employers.
Our annual survey, conducted by The Harris Poll on behalf of Franklin Templeton, is connected to Franklin Templeton's Retirement Innovation Initiative (RII), which launched in January 2020. RII's mission is to bring together industry experts who share the same vision—improving the future of retirement in the United States. Below are some highlights of the survey findings, analysis, and possible action items.
American workers are re-evaluating how they think about work and what they expect from their employers.
Survey finding: A sizable majority of American workers (67%) have re-assessed what they want from their employers due to COVID-19. Over the past year, 44% of respondents considered leaving or have left their jobs. Employees are rethinking their relationship with work, prioritizing well-being and stability alongside traditional indicators of success.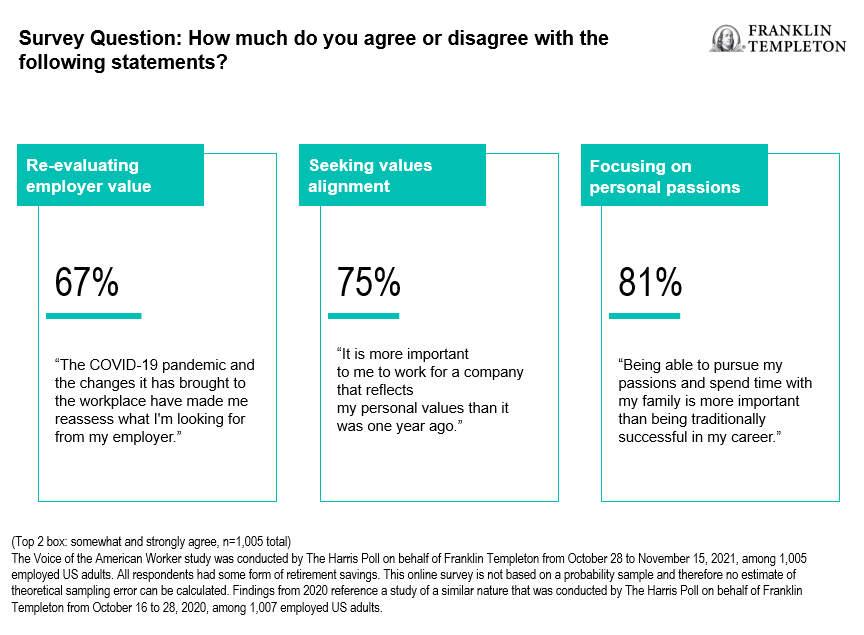 When considering a new job opportunity, employees rate the importance of salary vs. benefits as nearly equal, with 84% of respondents noting the importance of "benefits that help my financial well-being." A majority of employees (64%) also believe that the shifts brought about by the COVID-19 pandemic have changed the employer-employee relationship for the better. However, most employees (64%) also agree that their employers could be doing more in terms of providing up-to-date and valuable benefits.
Action item for employers: There's never been a more urgent time to evaluate your benefit offering and evolve the way you support employee needs. Turnover is at an all-time high as many adapt a "grass is greener" mentality. Having a deep understating of the current mindset of the American worker will help you consider how best to meet their expectations.
Workers remain more focused on financial independence than traditional retirement.
Survey finding: Employees continue to re-define financial milestones with an eye on freedom and flexibility. The majority of our survey respondents (84%) stated that "I am more focused on becoming financially independent than on traditional retirement," and 76% said financial independence is a primary priority. While privacy is a concern for many, 87% of employees in our survey would be willing to give their employer some form of personal information in exchange for more personalized benefits.
Action item for employers: Personalization has empowered consumers and is becoming the market standard. While employees consider the trade-off of providing more information in order to have a more personalized benefit experience, employers have an opportunity to educate, provide transparency, and build trust amongst their employees especially with a majority of employees (68%) saying that they "wish my employer recommended financial strategies to me based on my income and financial goals."
Workers continue to seek improved well-being and need support in addressing existing roadblocks.
Survey finding: Workers value mental, physical, and financial health even more equally in 2021 than 2020 when considering their overall well-being. Despite trying to optimize across all three elements, workers in 2021 still don't feel as much control over their financial health as they do in other areas.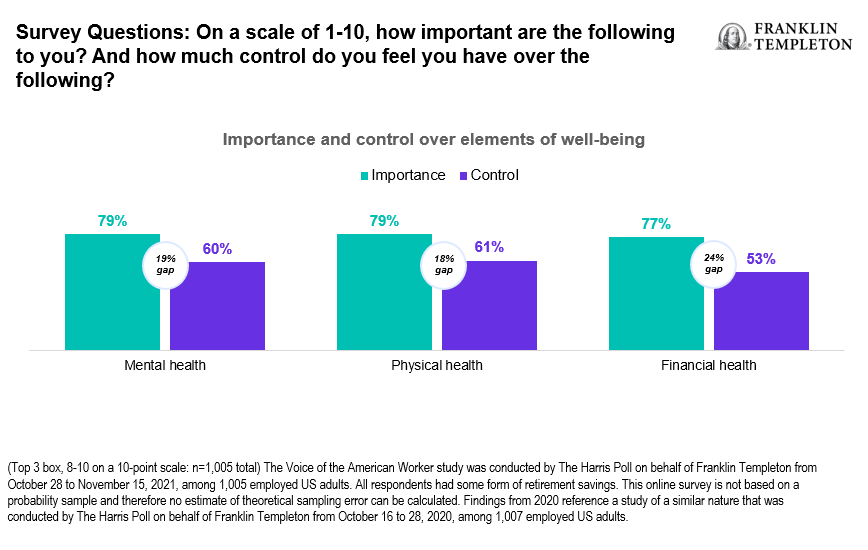 One key reason for this lack of control: Debt. Among US workers, 83% carry at least one form of debt.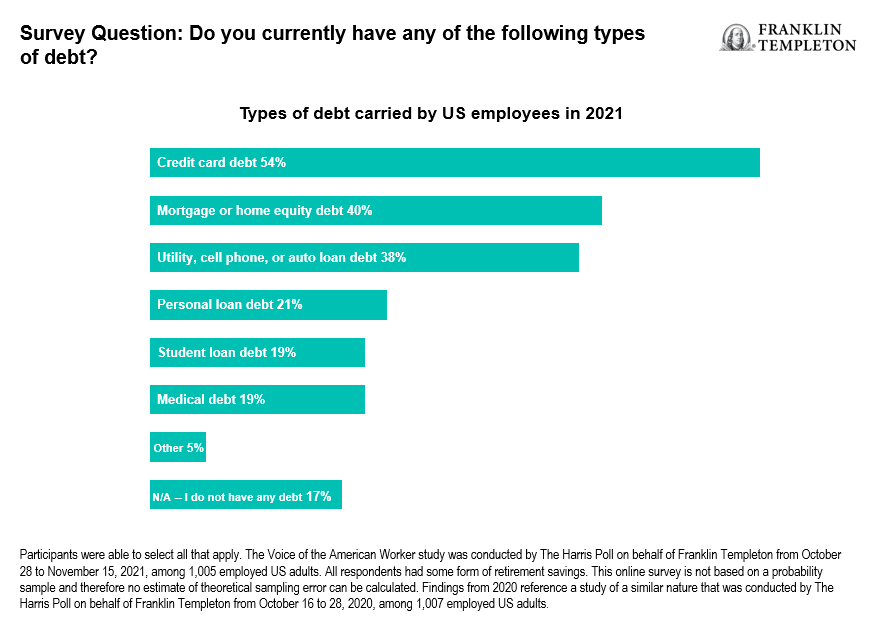 Action item for employers: Among employees who currently carry debt, a majority say their levels of debt are impactful on their lives, jobs, and decision-making. This type of financial stress is a significant contributor to workers' lack of overall well-being. Most workers feel their current level of financial stress affects their overall well-being (59%) and agree this is an ongoing issue caused by factors other than COVID-19 (64%). Improving employee well-being is vital to the health of the business as well. 
A focus on well-being continues to include urgency in improving financial health with key opportunities for employer support.
Survey finding: As employees seek opportunities to improve well-being, most are interested in benefits like access to a financial professional (56%), financial planning tools (62%) and financial education (54%). As seen in 2020, nearly eight in 10 employees want rewards for good behavior. Most employees want more out of their benefits than they are currently offered, with 64% saying "I am looking for more out of my employment benefits than my employer currently offers."
Action item for employers: Workers are looking to their employers for help. Employees are interested in financial management and education benefits, and a majority of workers favor benefits that can help them learn about financial management in addition to benefits that help manage their money directly. There is a key opportunity for top employers to differentiate by meeting the needs of today's American worker.
If employers aren't providing competitive benefits, someone else probably is.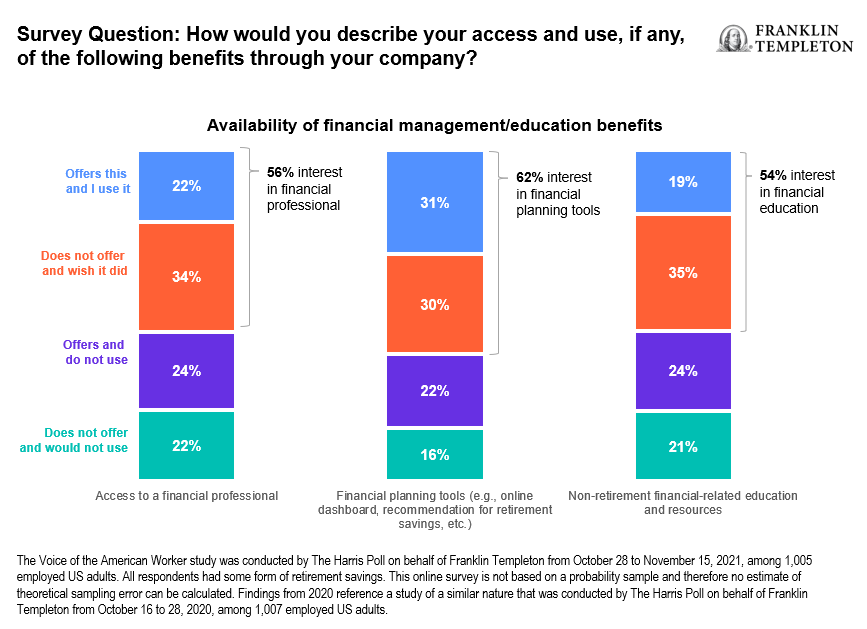 For additional information, please contact the Franklin Templeton Retirement Sales Department at (800) 530-2432 or visit https://www.franklintempleton.com/insights/research-findings/voice-of-the-american-worker-survey.
The Voice of the American Worker survey was conducted by The Harris Poll on behalf of Franklin Templeton from October 28 to November 15, 2021, among 1,005 employed US adults. All respondents had some form of retirement savings. This online survey is not based on a probability sample and therefore no estimate of theoretical sampling error can be calculated. Findings from 2020 reference a study of a similar nature that was conducted by The Harris Poll on behalf of Franklin Templeton from October 16 to 28, 2020, among 1,007 employed US adults.
Franklin Templeton is not affiliated with The Harris Poll, Harris Insights & Analytics, a Stagwell LLC Company.
Important Legal Information
This material is intended to be of general interest only and should not be construed as individual investment advice or a recommendation or solicitation to buy, sell or hold any security or to adopt any investment strategy. It does not constitute legal or tax advice. This material may not be reproduced, distributed or published without prior written permission from Franklin Templeton.
The views expressed are those of the author and the comments, opinions and analyses are rendered as at publication date and may change without notice. The underlying assumptions and these views are subject to change based on market and other conditions and may differ from other portfolio managers or of the firm as a whole. The information provided in this material is not intended as a complete analysis of every material fact regarding any country, region or market. There is no assurance that any prediction, projection or forecast on the economy, stock market, bond market or the economic trends of the markets will be realized. The value of investments and the income from them can go down as well as up and you may not get back the full amount that you invested. Past performance is not necessarily indicative nor a guarantee of future performance. All investments involve risks, including possible loss of principal.
Any research and analysis contained in this presentation has been procured by Franklin Templeton for its own purposes and may be acted upon in that connection and, as such, is provided to you incidentally. Data from third party sources may have been used in the preparation of this material and Franklin Templeton ("FT") has not independently verified, validated or audited such data. Although information has been obtained from sources that Franklin Templeton believes to be reliable, no guarantee can be given as to its accuracy and such information may be incomplete or condensed and may be subject to change at any time without notice. The mention of any individual securities should neither constitute nor be construed as a recommendation to purchase, hold or sell any securities, and the information provided regarding such individual securities (if any) is not a sufficient basis upon which to make an investment decision. FT accepts no liability whatsoever for any loss arising from use of this information and reliance upon the comments, opinions and analyses in the material is at the sole discretion of the user.
Products, services and information may not be available in all jurisdictions and are offered outside the U.S. by other FT affiliates and/or their distributors as local laws and regulation permits. Please consult your own financial professional or Franklin Templeton institutional contact for further information on availability of products and services in your jurisdiction.
Issued in the U.S. by Franklin Distributors, LLC., One Franklin Parkway, San Mateo, California 94403-1906, (800) DIAL BEN/342-5236, franklintempleton.com – Franklin Distributors, LLC, member FINRA/SIPC, is the principal distributor of Franklin Templeton U.S. registered products, which are not FDIC insured; may lose value; and are not bank guaranteed and are available only in jurisdictions where an offer or solicitation of such products is permitted under applicable laws and regulation.
Please visit www.franklinresources.com to be directed to your local Franklin Templeton website.
Franklin Distributors, LLC. Member FINRA/SIPC. Prior to July 7, 2021, Franklin Templeton Distributors, Inc., and Legg Mason Investor Services, LLC served as mutual fund distributors for Franklin Templeton.