Given the ongoing pandemic, this year's holiday season is particularly challenging for many of us. With supply chain issues and shipping delays, it can make it even harder to find that perfect gift for loved ones. And, inflation is making many items even more expensive this year.
As the holiday season approaches, like many people, I go on a search for meaningful and useful gifts for friends and family. It's often hard not to succumb to the latest fad, especially for younger children who clamor for the hottest electronic gadget or must-have toy.  But, according to the Journal of Infant Behavior and Development1 toddlers with fewer toys were actually more creative and focused. Imagine that! Maybe another toy to add to the pile isn't the answer. So, what's the solution to my present dilemma (pun intended) for my younger relatives?
The gift of an education is something that will never be discarded and provides lasting benefits. One way to finance educational needs is via a 529 plan, which fits the bill for a unique and meaningful gift that can help loved ones avoid taking on future student debt, too.
Whether or not you have children of your own, you probably are aware of the staggering statistics about student debt in this country—you may even still be paying off debt yourself! As of November 2021, student loan debt at $1.75 trillion outpaces the rise in tuition costs by 353.8%.2 Various estimates show the average student loan is now more than $30,000 at graduation—quite an amount to face as one starts his or her career.
Various surveys have shown that individuals still saddled with debt years after graduation are forced to delay or even quash goals like getting married or having children of their own—let alone contribute to their own retirement.
Despite this mounting debt burden, according to the College Savings Foundation's 15th Annual State of College Savings Survey, loans continue to be a consideration to help pay for higher education. Sixty-four percent of parents surveyed plan to borrow to pay for their children's higher education expenses, even with 34% of parents surveyed noting that they or their spouse is still paying off student loans.3
While student loans certainly are a viable option for some families, there are other solutions. We've all become familiar with crowdfunding platforms to finance everything from medical bills to honeymoons, but you may not realize they can be used for contributing to a child's 529 college savings plan, too.
As a parent of young children, you might feel a little uncomfortable asking other people to help with college costs. (And maybe you feel a little guilty NOT indulging your child with every desired toy.) However, you are making it easier for relatives or others in your child's life to find that perfect, meaningful gift—particularly in a year already filled with stress. Perhaps they can pair a small traditional gift with a college savings contribution. Many family members may not even be aware that this is an option; the College Savings Foundation survey also found that 48% of respondents weren't aware they could even open a 529 for grandchildren, which is another way for family members to kick start education savings. In addition, while crowdfunding is a great tool to contribute to existing efforts, 529 plans can be opened for anyone, not just immediate family.
"Spryng" into the Holiday Gifting Season
While a contribution to a 529 plan may not be on your child's wish list, we think it's something they will likely thank you for later. According to a study by Brookings Institution, on median, career earnings for those with a bachelor's degree are more than twice as high as those with only a high school diploma or GED.4
So how can family members make a contribution? Spryng, Franklin Templeton's college savings crowdfunding solution, can help.
Designed exclusively for Franklin Templeton 529 and NJBEST plan account owners, Spryng is a personal crowdfunding tool designed to help meet the increasing cost of college and certain trade schools. It takes just a few minutes to set up a Spryng account for a beneficiary and share it with friends and family.
Please note that to create a Spryng profile, you will need to have a Franklin Templeton 529 Savings Account or NJBEST New Jersey's 529 College Savings account.
Extend Your Charitable Giving
If you are looking for ways to extend your generosity this season, consider a Donor-Advised Fund (DAF) to give to your favorite charities. A DAF can help your donations be as effective as possible due to its tax-advantaged ways to give to charities. Contributions to a DAF generally offer an immediate tax deduction and if contributing appreciated assets, you can deduct their full fair market value from your taxable income. Those invested contributions offer the potential for your donation to grow tax-free until you're ready to make grant recommendations to your chosen charities.
Talk to your financial professional about whether the Franklin Templeton Charitable Giving Program makes sense for your charitable giving efforts.
Make this holiday season a memorable one. The gifts of education and generosity last a lifetime.
Remember to speak with a financial professional for savings ideas and strategies that are best for you and your family. See our 529 plan Investor Handbook and Charitable Giving Donor Circular for complete information.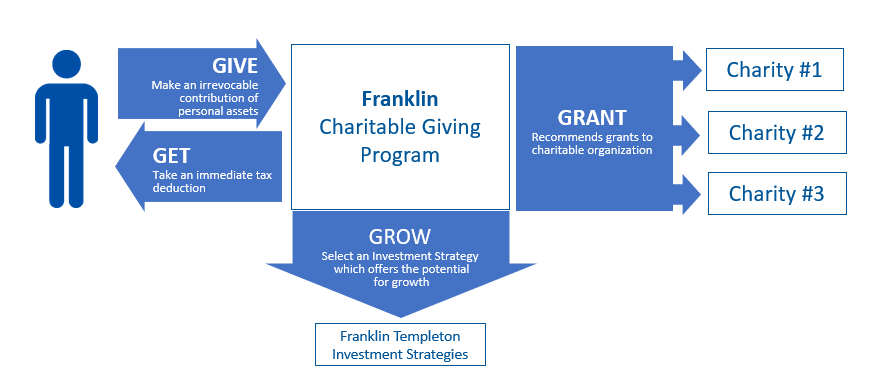 What Are the Risks?
Any information, statement or opinion set forth herein is general in nature, is not directed to or based on the financial situation or needs of any particular investor, and does not constitute, and should not be construed as, investment advice, forecast of future events, a guarantee of future results, or a recommendation with respect to any particular security or investment strategy or type of retirement account. Investors seeking financial advice regarding the appropriateness of investing in any securities or investment strategies should consult their financial professional.
Investors should carefully consider the 529 plan's investment goals, risks, charges and expenses before investing. To obtain the Investor Handbook, which contains this and other information, talk to your financial professional or call Franklin Distributors, LLC, the manager and underwriter for the 529 plan at (800) DIAL BEN /342-5236 or visit franklintempleton.com. You should read the Investor Handbook carefully before investing and consider whether your, or the beneficiary's, home state offers any state tax or other state benefits such as financial aid, scholarship funds, and protection from creditors that are only available for investments in its qualified tuition program.
Franklin Templeton's 529 College Savings Plan is offered and administered by the New Jersey Higher Education Student Assistance Authority (HESAA); managed and distributed by Franklin Distributors, LLC, an affiliate of Franklin Resources, Inc., which operates as Franklin Templeton.
Investments in Franklin Templeton's 529 College Savings Plan are not insured by the FDIC or any other government agency and are not deposits or other obligations of any depository institution. Investments are not guaranteed by the State of New Jersey, Franklin Templeton, or its affiliates and are subject to risks, including loss of principal amount invested. Investing in the plan does not guarantee admission to any particular primary, secondary school or college, or sufficient funds for primary, secondary school or college.
Franklin Templeton, its affiliates, and its employees are not in the business of providing tax or legal advice to taxpayers. These materials and any tax-related statements are not intended or written to be used, and cannot be used or relied upon, by any such taxpayer for the purpose of avoiding tax penalties or complying with any applicable tax laws or regulations. Tax-related statements, if any, may have been written in connection with the "promotion or marketing" of the transaction(s) or matter(s) addressed by these materials, to the extent allowed by applicable law. Any such taxpayer should seek advice based on the taxpayer's particular circumstances from an independent tax professional.
Important Legal Information
This material is intended to be of general interest only and should not be construed as individual investment advice or a recommendation or solicitation to buy, sell or hold any security or to adopt any investment strategy. It does not constitute legal or tax advice. This material may not be reproduced, distributed or published without prior written permission from Franklin Templeton.
The views expressed are those of the investment manager and the comments, opinions and analyses are rendered as at publication date and may change without notice. The underlying assumptions and these views are subject to change based on market and other conditions and may differ from other portfolio managers or of the firm as a whole. The information provided in this material is not intended as a complete analysis of every material fact regarding any country, region or market. There is no assurance that any prediction, projection or forecast on the economy, stock market, bond market or the economic trends of the markets will be realized. The value of investments and the income from them can go down as well as up and you may not get back the full amount that you invested. Past performance is not necessarily indicative nor a guarantee of future performance. All investments involve risks, including possible loss of principal.
Any research and analysis contained in this presentation has been procured by Franklin Templeton for its own purposes and may be acted upon in that connection and, as such, is provided to you incidentally. Data from third party sources may have been used in the preparation of this material and Franklin Templeton ("FT") has not independently verified, validated or audited such data. Although information has been obtained from sources that Franklin Templeton believes to be reliable, no guarantee can be given as to its accuracy and such information may be incomplete or condensed and may be subject to change at any time without notice. The mention of any individual securities should neither constitute nor be construed as a recommendation to purchase, hold or sell any securities, and the information provided regarding such individual securities (if any) is not a sufficient basis upon which to make an investment decision. FT accepts no liability whatsoever for any loss arising from use of this information and reliance upon the comments opinions and analyses in the material is at the sole discretion of the user.
Products, services and information may not be available in all jurisdictions and are offered outside the U.S. by other FT affiliates and/or their distributors as local laws and regulation permits. Please consult your own financial professional or Franklin Templeton institutional contact for further information on availability of products and services in your jurisdiction.
Issued in the U.S. by Franklin Distributors, LLC., One Franklin Parkway, San Mateo, California 94403-1906, (800) DIAL BEN/342-5236, franklintempleton.com – Franklin Distributors, LLC, member FINRA/SIPC, is the principal distributor of Franklin Templeton U.S. registered products, which are not FDIC insured; may lose value; and are not bank guaranteed and are available only in jurisdictions where an offer or solicitation of such products is permitted under applicable laws and regulation.
Please visit www.franklinresources.com to be directed to your local Franklin Templeton website.
______________________
1.Source: Infant Behavior and Development, "The Influence on the number of toys in the environment on toddler's play." Volume 50, February 2018.
2. Source: Federal Reserve Bank of St. Louis, "Student Loans Owned and Securitized, Outstanding." Data as of second-quarter 2018.
3. Source: College Savings Foundation, 2021 State of College Savings Survey.
4. Source: Brooking Institution: "Major Decisions: What Graduates Earn Over Their Lifetime," October 2020.