Q: How did you first become interested in finance/investing as a career?
A: Growing up in a small town in Ohio, I had no idea what the word "finance" meant, let alone how to navigate a career path in the industry. Neither of my parents—who had immigrated from Thailand to work in the health care sector—had any financial expertise. But one day, while still in grade school, I remember coming across a copy of BusinessWeek and becoming engrossed in an article about investment banking. Despite not having any real understanding of what it entailed, I grew up dreaming that I would move to New York City one day and work on Wall Street.
Somewhat shockingly, that's actually what ended up happening! After college, I worked as an investment banking analyst at Donaldson, Lufkin & Jenrette. After completing the analyst program, I worked briefly in private equity, then explored legal practice and strategy consulting. Though my path has been more circuitous than most, all these different experiences enabled me to figure out what I most valued in a job. I ultimately returned to finance because of its analytical elements, and specifically chose investment management because of its variety, intellectual challenge, and tangible impact. Every single day is different and unpredictable, with one exception: you get a P&L [profit and loss] at the close! Although I've worked at Western Asset for almost two decades, I still find the market both fascinating and humbling.
Q: You have an economics degree, and also went to law school at Harvard. Are you able to apply some of those legal skills to your current role—and how?
A: Most definitely. Law school develops so many skills, even if you don't end up practicing. First, attention to detail: one small fact can change the entire outcome of a case, and the same is true for investing as well. Second, critical thinking: in law school you're trained to test the strength of your position by arguing the other side and trying to find weak points wherever you can. That analytical process is just as crucial in investing. I feel lucky to be part of the Western Asset team, where we constantly test our hypotheses so we can come up with the best ideas for our clients.
Q: As Global Head of Environmental, Social and Governance (ESG) at Western Asset, why is ESG important in your view—and how does Western Asset approach it within portfolios?
A: ESG naturally fits with Western Asset's investment philosophy because of the firm's longstanding focus on fundamental value. More investors have come to understand the acute risks—and opportunities—that ESG poses for financial returns, in large part due to climate change. This shift in investor attitudes has been turbocharged by a cascade of sustainable finance regulations around the globe.
Our clients are increasingly seeking ways to express ESG principles through their investment portfolios. As a fiduciary and partner, Western Asset works closely with clients to understand their objectives and create tailored investment solutions to meet their goals. Our long track record in customizing mandates provides an advantage in ESG investing, where client preferences can be extremely specific.
Q: You helped launch the California chapter of Bloomberg Women's Buy Side Network. Can you explain what the organization does and your role?
A: The Bloomberg Women's Buy-Side Network (BWBN) is a global initiative to increase female representation in portfolio manager and other senior-level investment industry positions through education, mentoring and networking opportunities. Since September 2018, the network has established groups in Singapore, India, Hong Kong, Japan, Australia/New Zealand and Brazil. Last fall Bloomberg approached me and three other women leaders about forming the first BWBN chapter in the United States. We launched the BWBN California Chapter last November with a reception attended by 200 women and headlined by guest speaker Ellen Carr (who co-authored a book with Franklin Templeton's own Katrina Dudley). We have another reception in San Francisco to commemorate International Women's Day, and we just finished a series of smaller group meetings where we discussed challenges such as finding a mentor, getting promoted, and negotiating compensation. Stay tuned for more great events in the future!
Q: What advice would you give to younger women interested a career in finance?
A: There's never been a better time for women to get started in the industry, as investment firms today recognize how crucial diversity is to the business. I would tell my younger self:
Raise your hand for new opportunities. If you don't express interest, managers will assume that you're satisfied with your current role.
Take risks (by which I am referring to one's career—not the market!). In order to achieve growth, you have to leave your comfort zone.
Believe in yourself. If you are suffering self-doubt before a significant presentation or event, (over-) preparation and practice can help tame your fears.
Q: What are the most challenging—and most rewarding—parts of your job?
A: One aspect of my job that I find both challenging and rewarding is having responsibilities across multiple areas—as the global head of ESG, as a broad-market portfolio manager, and as the CEO for a publicly-traded REIT that Western Asset externally manages. This combination of roles constantly keeps me on my toes. But it also means that I am almost always juggling several balls at once.
Because ESG now touches all corners of the investment world, I work closely with groups across the firm—not just our sector specialists, but also our risk management, IT, product, legal and client service teams. Many of my interactions are with our other offices across the globe. Working across time zones sometimes results in long workdays, but I value the opportunity to learn from such a diverse set of colleagues.
Q: Any other passions or hobbies outside work you'd care to share?
A: Aside from raising two wonderful kids, I love playing the piano, which never fails to transport me away from the stresses of the day. I particularly enjoy reading chamber music with my husband, who finds similar respite in the cello.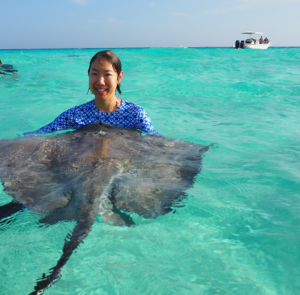 Baking has been a hobby of mine for years, and during the pandemic, it became a fun way to spend time with my teenage daughter. We love experimenting with new recipes, with one recent success being Dorie Greenspan's "custardy apple squares."
I also enjoy reading, which I have found more time to do now that my kids are a bit older. I used to read almost exclusively fiction, but these days alternate between fiction and nonfiction. In the nonfiction category, I recently finished An Elegant Defense: The Extraordinary New Science of the Immune System by Matt Richtel, which I think could be of interest to many in light of COVID-19. I'm always hunting for good books, so please let me know if you have any recommendations!
What Are the Risks?
All investments involve risks, including possible loss of principal. The value of investments can go down as well as up, and investors may not get back the full amount invested.
Impact investing and/or Environmental, Social and Governance (ESG) managers may take into consideration factors beyond traditional financial information to select securities, which could result in relative investment performance deviating from other strategies or broad market benchmarks, depending on whether such sectors or investments are in or out of favor in the market. Further, ESG strategies may rely on certain values-based criteria to eliminate exposures found in similar strategies or broad market benchmarks, which could also result in relative investment performance deviating.
Important Legal Information
This material is intended to be of general interest only and should not be construed as individual investment advice or a recommendation or solicitation to buy, sell or hold any security or to adopt any investment strategy. It does not constitute legal or tax advice. This material may not be reproduced, distributed or published without prior written permission from Franklin Templeton.
The views expressed are those of the investment manager and the comments, opinions and analyses are rendered as at publication date and may change without notice. The underlying assumptions and these views are subject to change based on market and other conditions and may differ from other portfolio managers or of the firm as a whole. The information provided in this material is not intended as a complete analysis of every material fact regarding any country, region or market. There is no assurance that any prediction, projection or forecast on the economy, stock market, bond market or the economic trends of the markets will be realized. The value of investments and the income from them can go down as well as up and you may not get back the full amount that you invested. Past performance is not necessarily indicative nor a guarantee of future performance. All investments involve risks, including possible loss of principal.
Any research and analysis contained in this material has been procured by Franklin Templeton for its own purposes and may be acted upon in that connection and, as such, is provided to you incidentally. Data from third party sources may have been used in the preparation of this material and Franklin Templeton ("FT") has not independently verified, validated or audited such data.  Although information has been obtained from sources that Franklin Templeton believes to be reliable, no guarantee can be given as to its accuracy and such information may be incomplete or condensed and may be subject to change at any time without notice. The mention of any individual securities should neither constitute nor be construed as a recommendation to purchase, hold or sell any securities, and the information provided regarding such individual securities (if any) is not a sufficient basis upon which to make an investment decision. FT accepts no liability whatsoever for any loss arising from use of this information and reliance upon the comments, opinions and analyses in the material is at the sole discretion of the user.
Products, services and information may not be available in all jurisdictions and are offered outside the U.S. by other FT affiliates and/or their distributors as local laws and regulation permits. Please consult your own financial professional or Franklin Templeton institutional contact for further information on availability of products and services in your jurisdiction.
Issued in the U.S. by Franklin Distributors, LLC, One Franklin Parkway, San Mateo, California 94403-1906, (800) DIAL BEN/342-5236, franklintempleton.com – Franklin Distributors, LLC, member FINRA/SIPC, is the principal distributor of Franklin Templeton U.S. registered products, which are not FDIC insured; may lose value; and are not bank guaranteed and are available only in jurisdictions where an offer or solicitation of such products is permitted under applicable laws and regulation.
CFA® and Chartered Financial Analyst® are trademarks owned by CFA Institute.