Conducted in January 2021, Franklin Templeton's Retirement Income Strategies and Expectations (RISE) survey highlighted the stresses many people feel about their finances and retirement, although different generations have different concerns as well as priorities.1
Kickstarting Good Financial Habits
The potential for extreme financial hardship is still a concern for many people, which isn't a surprise given how the COVID-19 crisis heightened financial stresses for many individuals. The ability to handle unforeseen expenses as well as day-to-day expenses were cited as top drivers of stress for younger Americans, which we believe demonstrates the importance of starting financial planning early.
For Americans closer to retirement age and those already retired, worries about outliving assets/running out of money was seen across each cohort. These findings illustrate the need to engage with individuals around financial wellbeing early and meet them where they are—including but not limited to debt management, budgeting, loan repayment programs, emergency savings accounts and health savings accounts.
The tension between short-and-long-term financial-related needs can also be seen where individuals identify their current financial priorities. Having enough emergency savings to cover unexpected expenses was cited in our RISE survey as a high priority, and interestingly, it continues to increase as individuals age. Paying off debt is also a top priority for unsecured debt (which accounts for items like student loans and credit card debt) coming in a little higher than secured debt (mortgages, etc.). See chart below for more findings in this area.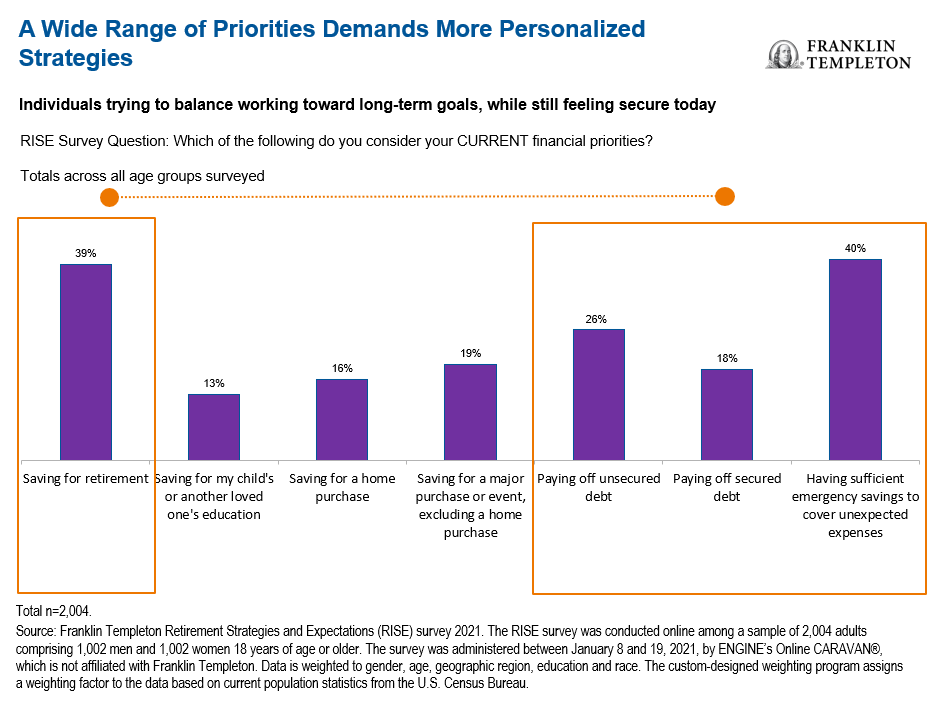 It's not surprising that saving for retirement plays a bigger role as individuals age, but many middle-aged respondents stated it just isn't a current priority. It's rather disconcerting that 37% of all age groups surveyed have nothing at all saved for retirement, further underscoring the challenge in having competing savings goals and priorities.
In order to help improve feelings of preparedness, individuals need to have confidence in their plan. But, as our survey revealed, many don't have a high level of confidence that they have the appropriate knowledge to do a lot of this work on their own. This provides some context for why many don't have a well-developed strategy. Or even one at all.
One place where many are looking for help is from their employer. We asked individuals who are employed and currently participating in a workplace retirement plan how important it was for their employer-sponsored retirement plan to include investment options that are specifically designed to help turn their savings into a regular stream of income throughout retirement. Almost everyone (95% of responders) said it's important. Additionally, 85% felt it's important for their employer to offer resources and assistance for other non-retirement financial planning services.
Another theme that comes to the forefront when individuals are thinking about retirement is health. In fact, it falls in the top two retirement-related concerns across all cohorts above the age of 24 and moves to the top spot from age 55+, as retirement approaches. In addition to health itself, people are also highly concerned about health-related expenses.
There is a resource that some individuals have access to that may help to improve confidence in this area—health savings accounts (HSAs). When used in conjunction with a high deductible health plan (HDHP), HSAs allow users to save money tax-free to pay for qualified healthcare expenses. When we cut the health-related data by those using an HSA versus those not using one, we see that HSA users surveyed were more confident that they will be able to cover health-related expenses in retirement.
The Importance of Retirement Income
As individuals are approaching retirement, they also lack strategies and understanding on retirement-income related items. First, we see that 46% of those age 55-64 are concerned about managing retirement income to meet expenses. Another 63% don't have a strategy to generate income for 30 years. And many don't understand the role Social Security or a retirement plan at work (for those who have ever participated in one) play in income replacement.
For individuals who claimed Social Security before their Full Retirement Age, the main reason was simply "because I was eligible." Many are unclear on the stability of the program and don't understand the ways in which it will replace their current income needs, despite it being a driver of the targeted retirement date for some individuals.
Understanding how much to save for expenses in retirement can be improved with education, tools and resources. And, by improving knowledge, we think individuals can also improve their confidence in having enough money to last.
Resources like a Social Security optimization tool can help individuals understand the implications of various claiming strategies.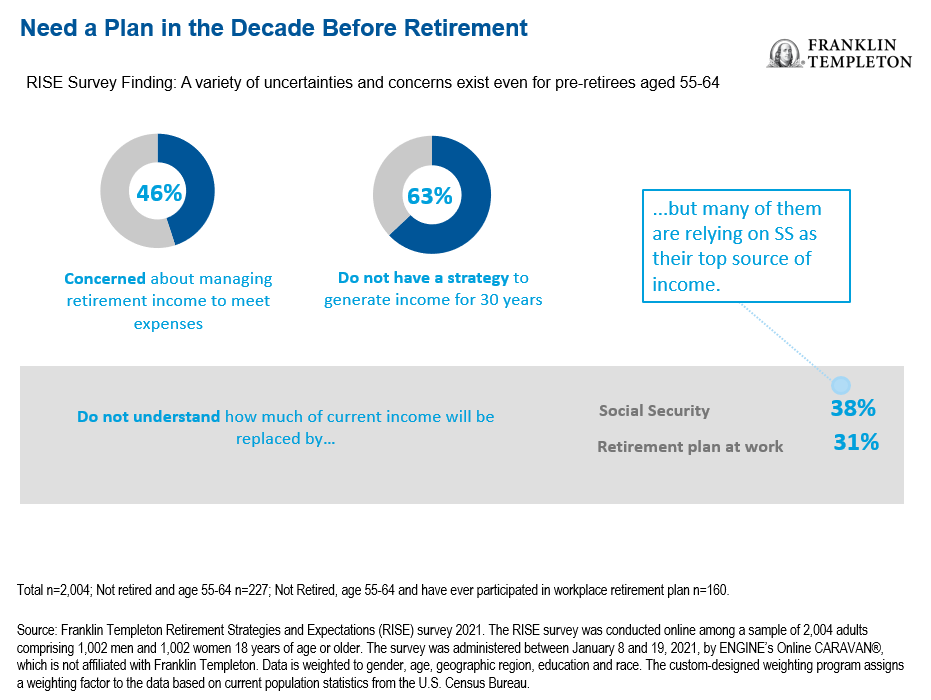 Living in Retirement
The retirees in our survey can also offer some wisdom for the younger generations—48% admitted they should have saved more and 66% said their expenses remained the same or increased. The rule of thumb around what percentage of one's pre-retirement income needs to be replaced in retirement needs to be closely evaluated at the personal level. We also saw a big shift in confidence among those living in retirement, with the majority very or somewhat confident they will have enough money to last the reminder of their lives.
However, there is still a great deal of uncertainty as it relates to recreating a paycheck. Many retirees reported they were trying to avoid spending down principal (41%), mainly driven by uncertainties around what future expenses will look like, life expectancy, and what's available to spend each year. An additional 33% are just spending what they need and hoping it will last. Both stats highlight the importance of developing a retirement income plan. In fact, 45% of Americans are willing to pay for insurance that guarantees a stream of income for life but only 2% cite an annuity or other insured products as their top source of retirement income. This highlights a lack of understanding about which solutions are available to them and the impact they can have on overall security in retirement.
Planning Resources
Nearly three in four of our RISE Survey respondents do not currently leverage digital resources, with a majority feeling they don't have a need for it. Education around how these tools could benefit them, combined with support from their employers, could be the key to getting more people on track with their retirement goals. As their financial situation becomes more robust, a financial professional could provide more holistic planning. However, half of Americans in our survey said they have never used a financial professional and 68% have no strategy to generate income for 30 years. We'd like to see those numbers increase—for a better financial future.
Additional survey information and retirement planning resources can be found on Franklin Templeton's website.
This information is intended for US residents only.
Survey Methodology
The Franklin Templeton Retirement Strategies and Expectations (RISE) survey was conducted online among a sample of 2,004 adults comprising 1,002 men and 1,002 women 18 years of age or older. The survey was administered between January 8 and 19, 2021, by ENGINE's Online CARAVAN®, which is not affiliated with Franklin Templeton. Data is weighted to gender, age, geographic region, education and race. The custom-designed weighting program assigns a weighting factor to the data based on current population statistics from the U.S. Census Bureau.
Important Legal Information
This material is intended to be of general interest only and should not be construed as individual investment advice or a recommendation or solicitation to buy, sell or hold any security or to adopt any investment strategy. It does not constitute legal or tax advice. This material may not be reproduced, distributed or published without prior written permission from Franklin Templeton.
The views expressed are those of the investment manager and the comments, opinions and analyses are rendered as at publication date and may change without notice. The underlying assumptions and these views are subject to change based on market and other conditions and may differ from other portfolio managers or of the firm as a whole. The information provided in this material is not intended as a complete analysis of every material fact regarding any country, region or market. There is no assurance that any prediction, projection or forecast on the economy, stock market, bond market or the economic trends of the markets will be realized. The value of investments and the income from them can go down as well as up and you may not get back the full amount that you invested. Past performance is not necessarily indicative nor a guarantee of future performance. All investments involve risks, including possible loss of principal.
Any research and analysis contained in this material has been procured by Franklin Templeton for its own purposes and may be acted upon in that connection and, as such, is provided to you incidentally. Data from third party sources may have been used in the preparation of this material and Franklin Templeton ("FT") has not independently verified, validated or audited such data.  Although information has been obtained from sources that Franklin Templeton believes to be reliable, no guarantee can be given as to its accuracy and such information may be incomplete or condensed and may be subject to change at any time without notice. The mention of any individual securities should neither constitute nor be construed as a recommendation to purchase, hold or sell any securities, and the information provided regarding such individual securities (if any) is not a sufficient basis upon which to make an investment decision. FT accepts no liability whatsoever for any loss arising from use of this information and reliance upon the comments, opinions and analyses in the material is at the sole discretion of the user.
Products, services and information may not be available in all jurisdictions and are offered outside the U.S. by other FT affiliates and/or their distributors as local laws and regulation permits. Please consult your own financial professional or Franklin Templeton institutional contact for further information on availability of products and services in your jurisdiction.
Issued in the U.S. by Franklin Distributors, LLC, One Franklin Parkway, San Mateo, California 94403-1906, (800) DIAL BEN/342-5236, franklintempleton.com – Franklin Distributors, LLC, member FINRA/SIPC, is the principal distributor of Franklin Templeton U.S. registered products, which are not FDIC insured; may lose value; and are not bank guaranteed and are available only in jurisdictions where an offer or solicitation of such products is permitted under applicable laws and regulation.
________________________
1. Source: The 2021 Franklin Templeton Retirement Income Strategies and Expectations (RISE) survey was conducted between January 8-19., 2021 among 2,004 individuals aged 18 and older. Data is weighted to gender, age, geographic region, education and race. The custom-designed weighting program assigns a weighting factor to the data based on current population statistics from the U.S. Census Bureau. Unweighted base sizes are included to indicate the number of survey participants who answered the question.